Recognizable by cobblestone streets and charming vintage atmosphere, this is maybe the nicest neighborghood in the city. It was named after Serbian hero Ivan Kosančić who died during the Battle of Kosovo in 1389.
Very peaceful, it brings out memories of an old Belgrade, even though you don't remember it or you are here for the very first time.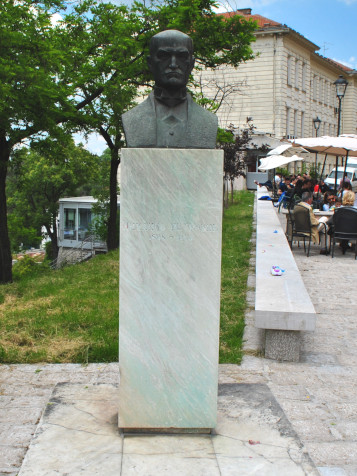 One of the symbols of this district is a house, built in a manner of secession, that belonged to Serbia's famous and beloved character - Mihailo Petrović aka "Alas" (eng. "fisherman"), mathematician, inventor and professor at Belgrade Univeristy. His love for fishing was widely known, even though he didn't know how to swim so many times (someone counted 11) he was drowning down in the rivers Sava and Danube, barely escaping with his life. Very talented academic and insightful scientist, his monument is placed in front of the house, right across the street.
Historically, this is the part of town where Serbs lived throughout the centuries.
It was a place with lots of taverns, and even nowadays that bohemian lookalike atmosphere remained in the air. You can enjoy a nice cup of coffee in an inspirational surroundings, looking down on the river, and chatting with your friends.
In Kosančićev Venac you can find several art galleries, and this was also the place where one of the best Serbian movies was filmed - "Maratonci trče počasni krug" (eng. "The Marathon Family").
Surrounded by a beautiful Krsmanović house (now Austrian Embassy), then the building of the Patriarchate, Cathedral Church of St. Michael, and Princess Ljubica Residence, this is a place of the utmost cultural importance and heritage.
Find it on the map ↓