We've talked to Nicolás, from Chile. He told us about his impressions on Belgrade.

EoB: Did you know something about Belgrade before you came here?
Nicolás: I really didn't know much about the city. I have a very good friend in Belgrade, she is Maria José, and her boyfriend is Marko, a Serbian guy that I met in Santiago de Chile two years ago. We spoke a lot about our countries. I was in Athens for a month, prior to my arrival to Serbia's capital. Then, I originally planned to stay for two weeks in Belgrade, but at the end I stayed five.
EoB: What did you expect to find here?
Nicolás: I came here to visit a friend, that I mentioned in the previous answer. She's living in Belgrade for 6 months now. And then, I used this time to finish my master's thesis that I needed to present at the University of Barcelona. It's about the world heritage and culture. I managed to do it, and I am really happy about that. So, these were my expectations, and I know that they had nothing to do with the city itself, in a conventional sense. 
EoB: What is the first thing you've noticed in Belgrade?
Nicolás: The first thing I noticed was "burek", a kind of typical pastry around here, and it was excellent. Then, I was delighted with "kafana" in Zemun. It was a really special place, with live traditional music, and there I learned much about the culture, too.
EoB: Describe Belgrade in one emotion (describe the emotion, if Belgrade was a feeling, what it would be?).
Nicolás: I can describe Belgrade in color. I think it's green, because I saw a lot of green spaces from the plane when I flew in. Before, I was in Egypt, Morocco, Tunisia, and Greece, and it was very special for me to see green areas near the airport. I think you have a very beautiful city, with Kalemegdan, and other green spots, like in New Belgrade and so on. So, green is the word.
EoB: What you dislike about Belgrade?
Nicolás: I dislike that "kafana" (Serbia's traditional restaurant) that I visited worked only on Fridays and Saturdays. I'd really like to visit more of them.
EoB: Compare Belgrade to your native city. What are the advantages/disadvantages?
Nicolás: In comparison to my native city of Santiago de Chile, I think the main difference is the attitude to life. In my country people are living really fast, and people in Belgrade are living calmly. It is a good way to live life. Also, I think that public transportation is good here, and the city is very friendly. It is not a huge city and you can move fast with public transportation, with air conditioned vehicles, which is very good.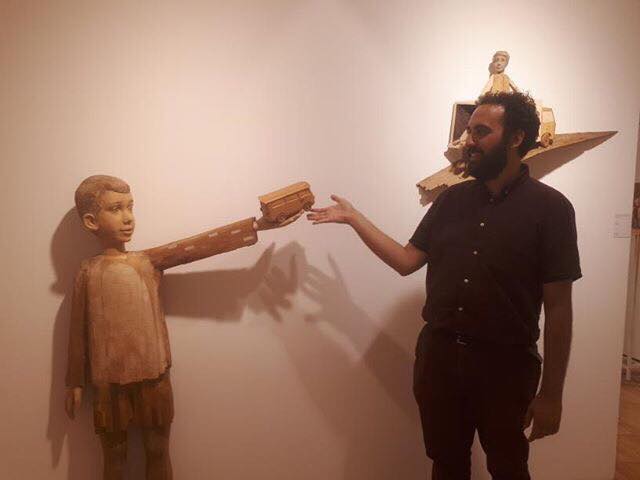 EoB: What do you think about people in Belgrade?
Nicolás: The people of Belgrade were very friendly to me. But I have to give special thanks to the people of Stalać, the native town of my friend Marko. He took me there and it was really incredible. I would recommend Stalać to everybody. It was such a nice experience for me.
EoB: Could you live in Belgrade?
Nicolás: I would like to live for a year in Belgrade. I thought about it, so if anyone has work for me, I would gladly stay. The city is very nice, very friendly, and I think it is a good place for living.
EoB: Name one city anywhere in the world you think is similar to Belgrade (no matter if you have visited it or not, give us your impression).
Nicolás: I was living in Barcelona for 4 months this year, and I think it is a very special city, like Belgrade. I think they have similarities, like green spaces, parks, quality of transportation, and also in the architectural sense I see the resemblence. But Belgrade is much smaller, and without the sea. But, with the Danube, which is a very nice river.
EoB: What was your most memorable moment in Belgrade?
Nicolás: I have many of those, but I chose the crypt of St. Sava's Church, a place where you can see and feel the orthodox heart. Then, I must stress once again "kafanas" at night.
EoB: Would you return to Belgrade (express that probability on a scale from 1 to 10).
Nicolás: Naturally, 10! And I would be very happy, too. I will always remember the time I spent in Belgrade, in the museums, learning about the culture, seeing everybody drinking yoghurt in the morning, and eating "burek", of course!
Follow Nicolás Rojas Inostroza >>> Instagram

Visit Nicolás' web-site >>> www.rojasinostroza.cl