Serbian language is a Slavic language, of the South Slavic branch. It is officially used in Serbia and in parts of Bosnia & Herzegovina (in Serbian federal unit called "Republika Srpska"). It is recognized as the minority language in Montenegro, Croatia, North Macedonia, and Romania. There are an estimated 12 million people speaking Serbian all over the world.

"My family is from Poland, so Polish is my mother tongue, and I usually speak Polish when I meet Serbian people who do not speak English. I think it is very similar to Polish, I understand a lot of things" said Maren (21) who visited Belgrade during Christmas holidays.
Her boyfriend Darius (24), who is German, added "I do not speak Polish, but it sounds very similar to me as well, I can clearly hear the similarities". And in general, that is true. If you, by any chance, come from a Slavic country, with Slavic language being your native language, you will be able to (easily) understand Serbian.
First significant legacy written in Serbian language is traced back to the 12th century. Back then, the Serbs used two languages - the so called Serbian version (recension) of the Church Slavonic language (for the official clerical use), and the "spoken language" of the common population.
One of the oldest surviving manuscripts written in Serbian version of the Church Slavonic, and certainly the most important one, is "Miroslavljevo Jevanđelje" ("Miroslav's Gospel") from 1180. In 2005, it was inscribed in UNESCO's Memory of the World Register. This 362-page book is now property of the National Museum of Serbia in Belgrade.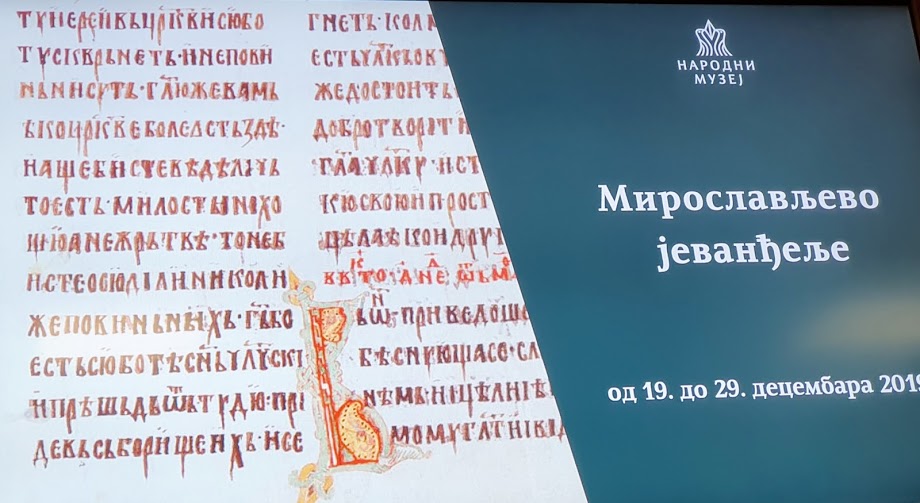 Fragment from Miroslav's Gospel as an announcement for display at the National Museum
Back in the Middle Ages, Church Slavonic language was written in two scripts - Cyrillic and Glagolitic. Glagolitic script was older and seemingly independent, while Cyrillic script was based on Greek alphabet. Both of these scripts were suited for Slavic languages, phonologically speaking, opposed to Latin script, used by Ancient Romans, and not best fitted for subsequently generated European national languages.
Cyrillic script was more practical as the design of the letters was simpler than Glagolitic one. Other than that, it resembled to Greek letters, so by the end of the 12th century it prevailed in Orthodox countries, such as Serbia and Bulgaria. Glagolitic script continued to live only in some parts of Croatia, with predominant Catholic population.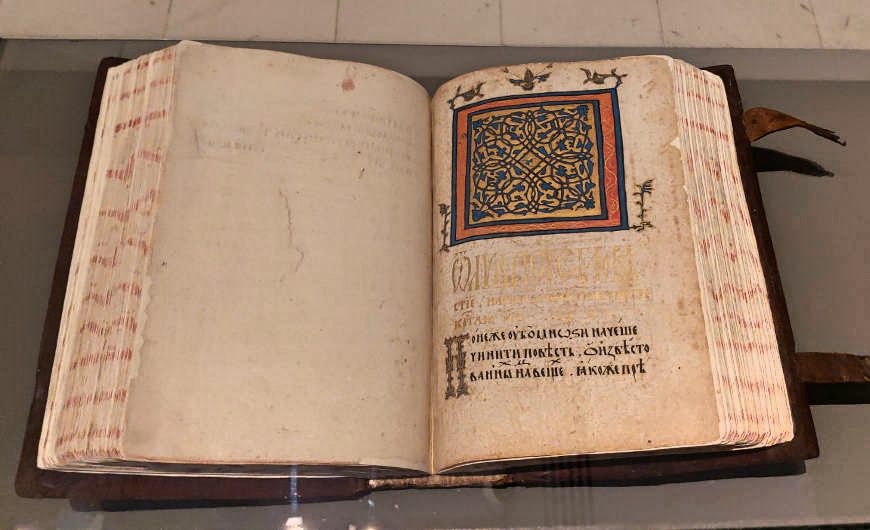 16th century Tetraevangelion of Studenica Monastery
Even though Cyrillic script is the official one, Latin script is more common nowadays in Serbia. However, you could be in trouble if you run to Cyrillic letters (and you are not Russian, Bulgarian or Macedonian).
"When we came here and we had to register in Police station, we had a copy of address of our host in Cyrillic alphabet, and it was very funny. I wrote it as I was copying a picture, I haven't had a clue what I was writing" said Darius from Germany.
SERBIAN ALPHABET
| | | | | |
| --- | --- | --- | --- | --- |
| Serbian Cyrilic | | Serbian Latin | | Corresponding sound in other language |
| А | | A | | eng. dark |
| Б | | B | | eng. bet |
| В | | V | | eng. above |
| Г | | G | | eng. gold |
| Д | | D | | eng. day |
| Ђ | | Đ | | eng. gentleman, ita. giorno |
| Е | | E | | eng. bet |
| Ж | | Ž | | eng/fr. massage, garage |
| З | | Z | | eng. busy |
| И | | I | | eng. tea |
| Ј | | J | | eng. yard |
| К | | K | | eng. cross |
| Л | | L | | eng. light |
| Љ | | Lj | | ita. famiglia |
| М | | M | | eng. mountain |
| Н | | N | | eng. net |
| Њ | | Nj | | ita. niente, esp. mañana |
| О | | O | | eng. hot |
| П | | P | | eng. pot |
| Р | | R | | esp. dinero, ita. giorno |
| С | | S | | eng. something |
| Т | | T | | eng. hat |
| Ћ | | Ć | | esp. chico, eng. cheese, ita. cinque, cena |
| У | | U | | eng. lose, boot |
| Ф | | F | | eng. finish |
| Х | | H | | eng. hot |
| Ц | | C | | Ritz (hotel), ger. Franz |
| Ч | | Č | | eng. church |
| Џ | | Dž | | eng. George |
| Ш | | Š | | eng. shadow |
Actually, the modern Serbian language is one of the few languages in the world that is written in two scripts - Cyrillic and Latin.
The first reformation of the language and script was conducted by Sava Mrkalj, Serbian philologist and poet, in the late 18th century. His work was further improved and finished by Vuk Stefanović Karadžić, widely recognized as the father of Serbian language. They reformed the Cyrillic alphabet according to J. C. Adelung's principle "write as you speak", i.e. "one sound for each letter". This resulted in Serbian Cyrilic script having 30 letters, each letter with its own unique sound. Some argue that it is the perfect orthographic system, found nowhere else in the world.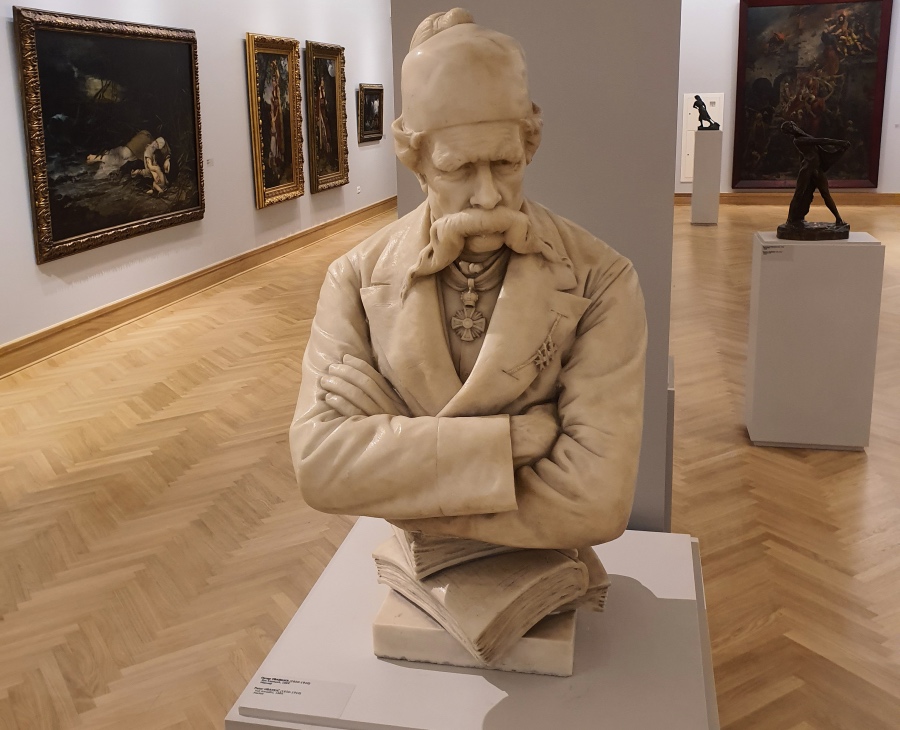 Sculpture of Vuk Karadžić by Petar Ubavkić, from the National Museum
The battle for common "spoken language" (now Serbian language) was conducted in the first half of the 19th century, all the way until 1847, which is considered to be the year of Vuk Karadžić's victory. Some major printed editions were issued in 1847 in common "spoken language" - translation of the New Testament (by Vuk Karadžić), The War for Serbian Language and Ortography (by Djura Daničić), the Songs (by Branko Radičević), and the "Mountain Wreath" (ser. "Gorski vijenac", by Petar Petrović Njegoš).
By the mid-19th century, all prominent Serbian and Croat linguists agreed that Serbo-Croatian is one language. The so called Illyirian movement was growing strong in Croatia, with the purpose of uniting all southern Slavs, nationally and linguistically. Other than that, Serbs were living all across north-western part of the Balkan peninsula, and the significant amount of the population in these regions were either Muslim or Catholic. This subsequently resulted in codification of Latin alphabet for Serbian and Croatian language, on the principles previously set by Vuk Stefanović Karadžić (Serbian linguist Đura Daničić, for example, designed Latin letter "Đ / đ").
Now, there are four official languages, derived from Serbo-Croatian: Serbian, Croatian, Montenegrin, and Bosnian. The linguists agree that it is all one language, with different dialects.