In the very heart of the city, at the outskirts of Pioneers Park, located between the National Assembly of Serbia and the Presidential Palace, there is a seemengly large pile of rubble that even most of the citizens of Belgrade, walking past it several times a day, do not know what it stands for. And yet this is the place of great historical importance for Serbia.
This pile of stones is actually a watchtower from the famous WWI battle at Kajmakčalan. The battle took place in 1916, at the mountain of Kajmakčalan (eng. Kaymakchalan), which is located at the present day border between Greece and the Former Yugoslav Republic of Macedonia. It was fought between Serb and Bulgarian forces, as a crucial push of the Serbian military through Salonica front towards regaining posseession over their homeland, at the time divided by Austria-Hungary and Bulgaria.
After the victory by the Serbian forces, the High Command decided to bring home the stones that the Serbian watchtower at the peak of the mountain was made of. It was put together in Belgrade and positioned in the center of the city, as a place to be revered by the future generations of Serbs, and to remember the immortal heroes who fought in the Great War.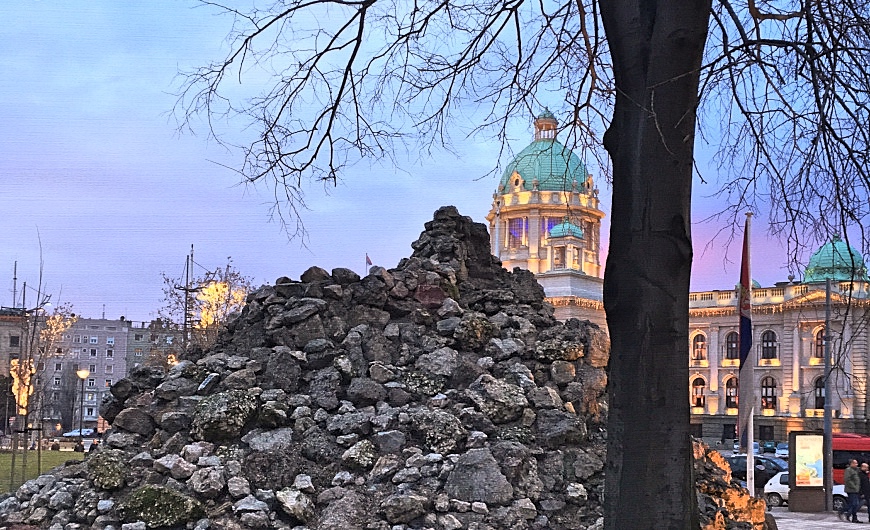 In the bottom of this monument, there are plaques with pictures of 16 military leaders and generals of the WWI, who fought by the Serbian side, and contributed to the victory of Allied powers: King Peter of Serbia, King Alexander of Yugoslavia, Field Marshal Radomir Putnik, Général Franchet d'Espèrey, Field Marshal Živojin Mišić, Général Maurice-Paul-Emmanuel Sarrail, Field Marshal Stepa Stepanović, Général Auguste Tranié, Général Paul Prosper Henrys, General Pavle Jurišić-Šturm, Vojvoda Petar Bojović, Général Adolphe Guillaumat, Général François Léon Jouniot Gambetta, General Živko Pavlović, General Mihailo Živković, Admiral Paul Émile Amable Guépratte.

Watch our featured video on YouTube and subscribe to our channel!