What you must do when in Belgrade is to place yourself at the crossroads of Resavska street and Kralja Milana street, and take a look around in every direction.
You will see two extraordinary buildings (the photo above) of the Officers' Club and the Officers' Cooperative. The first one, on the left side of the photo, painted in yellow, is older, being constructed in 1895 in the style of Romanticism. The second one, on the right, is errected in 1908 in the style of Art Nouveau. High above this crossroad a magnificent Belgrade Palace (aka in srb. "Beogradjanka") rises, a modern 101 meters tall skyscraper built in 1974, the tallest building in the old part of the town. If you go down Resavska street, at about 100 metersa, you will cross Nemanjina street and see the beautiful Barracks of the 7th Military Regiment, lying on the corner. But do take a moment and stand in front of the Belgrade Palace, at the very corner of Resavska st. and Kralja Milana st. Looking straight forward you will see a wonderful St. Sava's church rising high above the ground. Then look up, to your left, and you will see a magnificent St. Mark's church rising on the hill, at about 200 meters. Two monumental examples of Serbian Christian-Orthodox sacred architecture are literally breathtaking.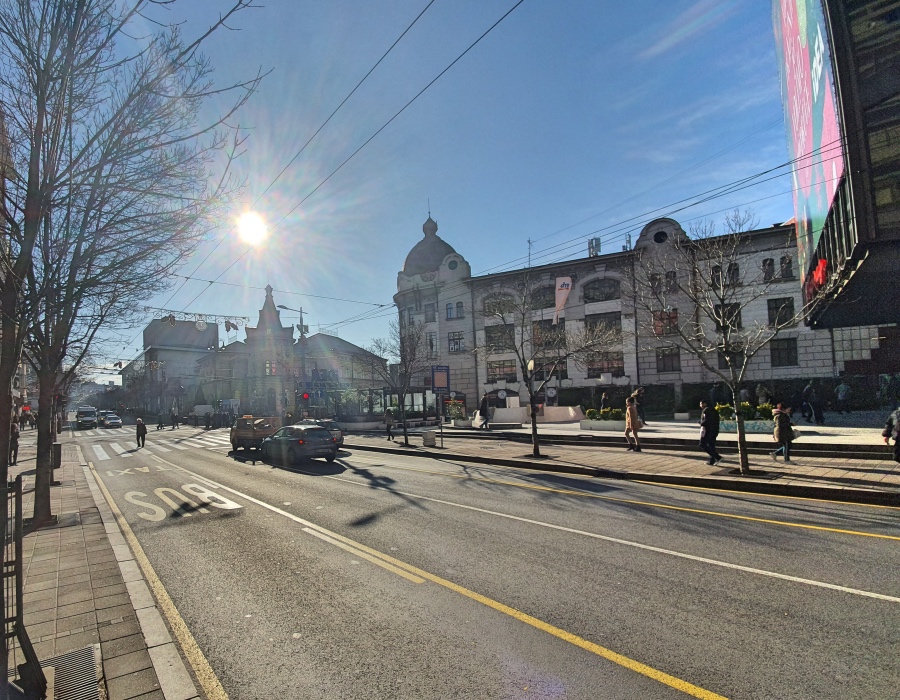 If you take Kralja Milana street, then going in direction of the north you will reach the New Palace (Presidential Palace), Ivo Andrić square, the Old Palace (City Hall), and Terazije street/square, everything within 300-400 meters. If you go south, then you will see the Yugoslav Drama Theater on the right and so called Flower square on the left (both at about 50 meters). If you move further along, you will get to Slavija square.
Flower square was opened in 1884, and got the name by numerous flowers shops in its surroundings. It got reconstructed several times, but the small flower shops remain there. At the large steps nowadays is a monument of the famous Serbian writer Borislav Pekić. This is the place with lots of coffee shops, and it is especially beautiful in springtime and summer. At the Flower square you can see a remarkable two-centuries-old oak tree. The Yugoslav Drama Theater is located in the building that was originally constructed in 1860, but since then was renovated and rebuilt several times, mainly due to fire. Now the facade is covered with glass panels.