Christy You comes from China. She really likes traveling but she had to work for 5-6 years to save enough money to be able to indulge in her passion. Now, she travels two times a year during vacations, as she works in school. Belgrade, and Serbia, are the first European and Western city and country that she has ever visited. She told us that she was "super excited coming here".
Christy traveled to Thailand and Cambodia, before she decided to come to Serbia. So, why Belgrade? The answer is pretty down to earth. Serbia is visa free country for the Chinese. Elsewhere in Europe they require pretty costly visas. So, Christy didn't want to spend any additional money and decided to come to Serbia which is to an average Chinese pretty reliable example of a western civilization country type. And rightfully so, because China is so far away from Serbia that those nuances between the European West and East seem to them as inconspicuous as those between China, Korea and, let's say Japan, to an average Serb.
We learned from her that the Chinese normally don't know a lot about Serbia and Belgrade. Before she came here, she borrowed some books, went to school library and read, and got to know a little bit about our culture and history. It was mainly about this "Eastern European thing", about the region, the wars and stuff like that. And it was suggested that when in Serbia you avoid history and politics because those topics are still fresh and controversial. Ok, enough about that. Let's skip theory and move to a more practical experience.
Christy didn't have any specific expectations before coming to Belgrade. She just wanted to feel the culture shock. "For us", she said, "Serbia is a western country, even though many of you would disagree and tell that you are an Eastern country, but from my perspective and from Chinese perspective, you are on a far West and you represent all those western cultural values that are so different from our own. It is a totally different feeling, and that's what I wanted to experience."
Christy lives in Beijing. She said that in Belgrade things are slow paced, almost everything is in walking distance, and food is really different and tasty. It is not so big and busy like in Beijing, where people literally don't have time to look at you.
The first thing she noticed in Belgrade were cigarette butts everywhere, even on the streets. "You people smoke everywhere", she said laughing, but in a complaining way. No matter if you are old or young, man or woman, everybody smokes here. And everywhere, in restaurants, on the street... And Christy understands that perfectly, because Chinese people also smoke a lot. "For me, that's pretty annoying", she said. "They cannot smoke in trains, for example, so then when they step out the first thing they do is light a cigarette. Also in elevators you can feel the smoke from the cigarettes. I really hate that." But, we learned one pretty significant difference. She told us that in China usually men smoke, and women very rarely become smokers. In Serbia, as she noticed, that isn't the case.
Overall, what Belgrade feels like to Christy? "It is relaxing", she said. Other than that, the food in Belgrade is very cheap comparing to Beijing. "And I love it!", Christy rejoiced. She even gained weight, she admitted, thing that is very common among all those who visit Serbia. She was here for two weeks and most of her clothes didn't fit anymore. Yeah, we heard that so many times. "Ice cream, pastry, meat, everything here is so cheap! Those things cost a lot in Bejing, believe me", she assured us. For example, we learned that a simple croissant, empty, costs 1 euro in Beijing. Here, in Belgrade, is like 40 cents.
"Could you live in Belgrade?", we asked. "Yeah, if I'm happy to be a fat person! But right now, I cannot even look at myself, I've never been so chubby!", she said laughing. "I try to discipline myself but everything is so tasty and tempting!", she added.
People of Belgrade are very kind and hospitable, according to Christy. "I have met some young people here, students working part-time, and we sat and talked, they were very nice and they even offered to pay my bills, and I was like c'mon, guys, you earn for your living, you don't need me adding up to those bills."
As for the architecture in Belgrade, Christy said that she really liked churches. "They are magnificent and very different from religous objects in China", she stressed. The architecture in Belgrade is very colorful in her opinion, almost exotic. Bright colored buildings, that is something quite different from China, we learned.
"On a scale from 1 to 10, Belgrade is a solid 8 for me", she concluded.
Then, she told us about her unbelievable experience visiting one of the most beautiful and inspiring Serbian monasteries, Studenica, which is located some 250 km south of Belgrade. She left us in disbelief. Here is her story...
"That was quite special, you know. Even many locals didn't go there. I did a lot of research on how to get there. It seemed that the only possible way for me to get there was taking a bus, but there is no direct line from Belgrade. So, you have to reach a very small town called Ušće, get off there, and then continue to Studenica. Unfortunately, I missed that stop. When I asked the driver he told me that we already passed it, and I started to panic. There are no signs in buses, you just have to know where you are supposed to get off. And I guess I didn't pay attention, at that point I was already traveling for like five of six hours. The driver was helpful, he told me to go out at the next stop and he directed me to the station for the return bus. When I finally came to Ušće, the people were quite surprised - amazed, if you like. As if they were asking themselves in disbelief 'from where did you come from, little girl?!' Because, you have to understand, it is a really, really small town and I guess the locals are not used to seeing many foreigners around there. I tried to communicate in english, but none of them spoke the language. One older guy was trying, I guess, to offer me a ride to Studenica, but I was too afraid to accept it. There was a convenient store nearby, and the staff wanted to call a taxi for me, but in that moment the bus arrived and I got on board. Finally, I reached the monastery."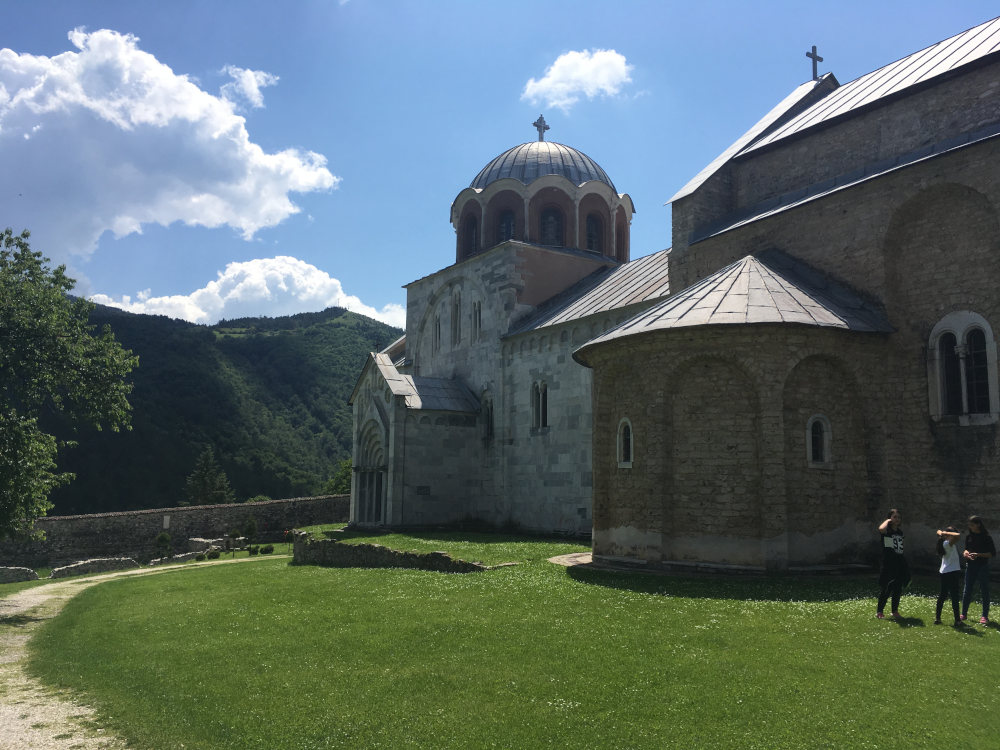 "I met other tourists there and I found out that there are organized bus tours directly from Belgrade. And I was like oh my God! It could have been much more easier and less dangerous. So, I hit myself in the head. I felt like I was cheated. Why no one told me about it?! (laughs) Gosh! But, then again, it was kind of an adventure and quite an experience. You know, I think that Belgrade is not tourist friendly. In Beijing, for example, there are signs in english everywhere and you cannot get lost easily. Plus, there is a subway and it can get you anywhere. Here, in Belgrade, waiting for the bus takes forever, and it is too exhausting to move around the city in it, and it feels like most of the time in Serbia I spent in buses, in transportation, and it is a big issue, I have to say. Back to the monastery... I spent one night there. It is in the mountains, and it was very peaceful. The people, monks I guess, were very nice, they served us fish. It was funny, because the fish had bones inside and I was like how do you eat fish with bones using a fork?! I would very much liked to have had chopsticks, you know. Really, how do you guys eat that with fork?! And what about the bones? I guess you don't eat it. I asked some guys and they told me that they use hands. But then your hands are so smelly from the fish! Yuck! I would never eat the fish with bare hands! In China, only little kids who still don't know how to use chopsticks use their hands. And then parents are like no, no, use your chopsticks!" (laughs)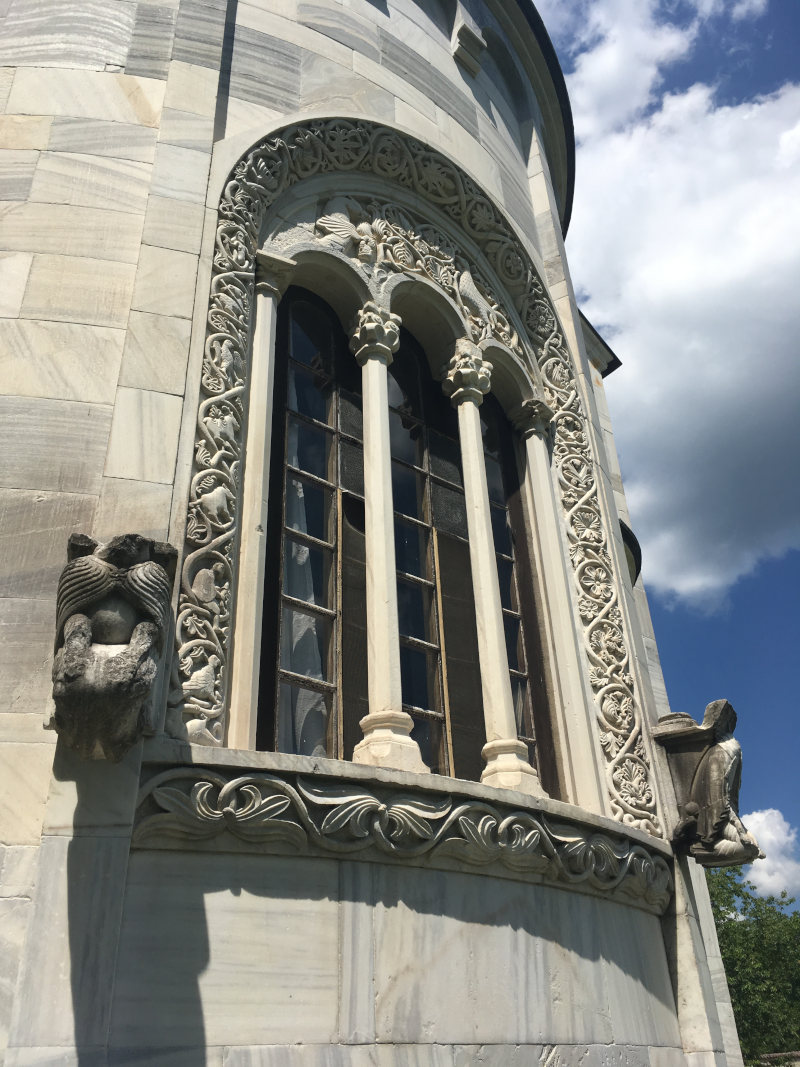 "Back to the story. Why Studenica? Because it is quite famous, I guess. And it has guest house for overnight stay. I don't think that I could easily stay overnight in other monasteries. For sure, I could, but I think Studenica is like the most guest friendly of all monasteries. Even for Studenica they do not have any information online in English. I was looking for days and I couldn't find anything. But some other travellers left comments on Trip Advisor and I found out that it is possible to stay there overnight."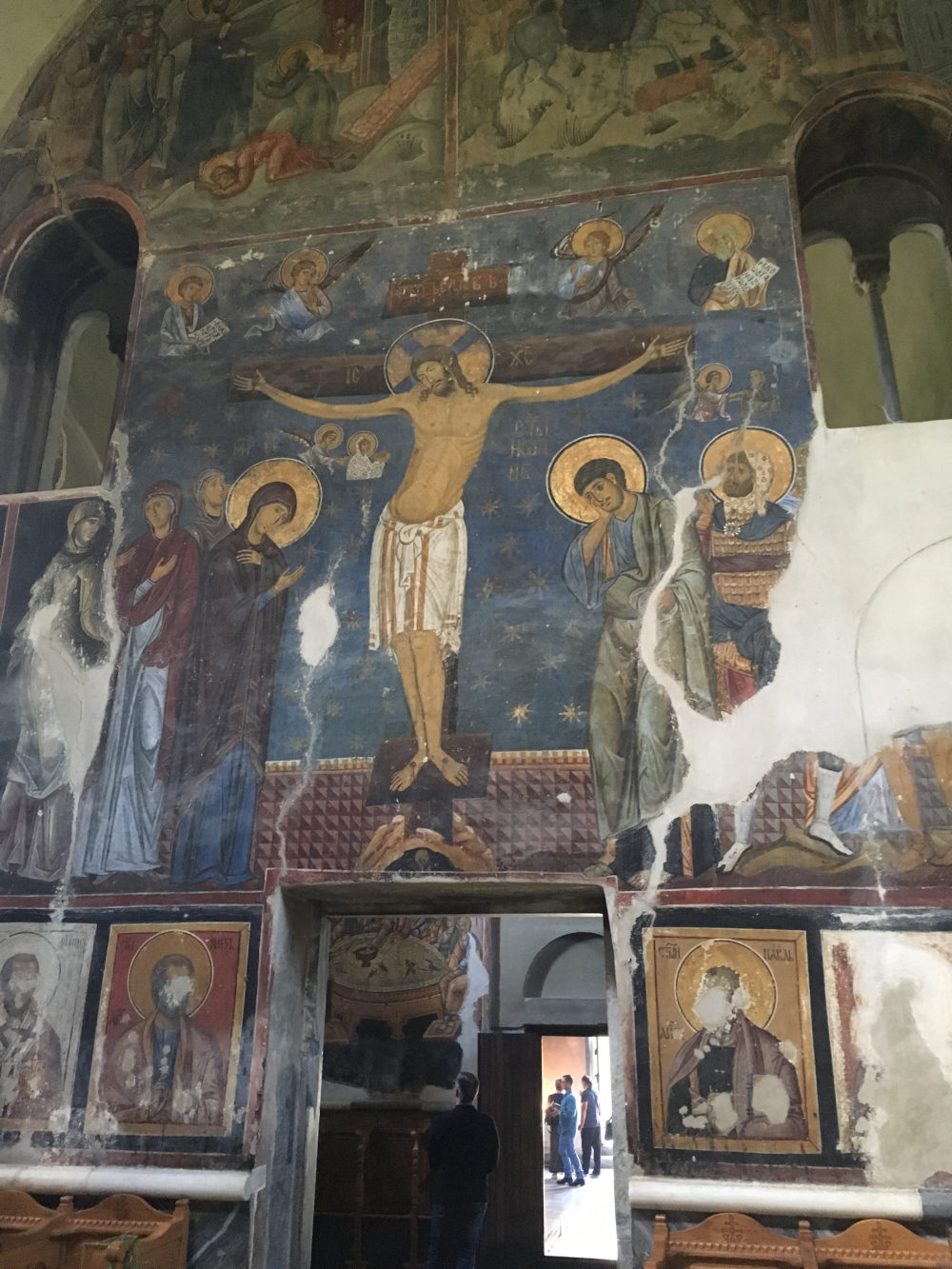 "So I was looking the web-site of the monastery in Serbian, I saw some screenshots. Obviously, I could not phone them from China, but I wrote an e-mail. And they got back to me. So, that's how I reserved a room. It is strange, though. It is a UNESCO World Heritage site, they should have some info in english. Even about Studenica I found out by chance, when I tried to learn about Serbia and what's there to visit. It popped out. Like Žiča monastery, which is nearby. I also wanted to visit that monastery, but it was very complicated because I had to switch between more buses and travel for like hours, and I was too exhausted. Otherwise, I would really like to go. The transportation in Serbia is a really big problem. It is really frustrating."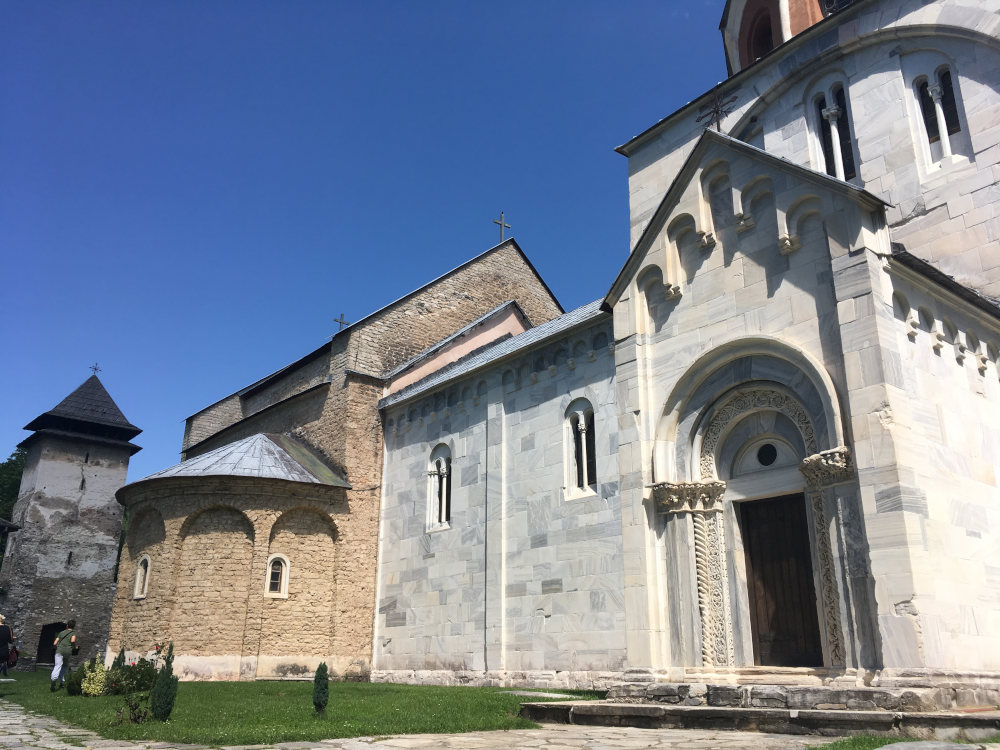 In Serbia, except the food, hardly anything is served to you on a plate. You always have to do an additional effort to make your plans come true. But, when you succeed it feels much better. And it is surely worthwhile.