Krunska (Crown) street is located in the city center, Vračar district. It goes on for 1.5 kilometers, in parallel with King Alexander blvd. Tesla Museum is here, at no. 51.

The first part is one-way street, and it becomes a two-way avenue with long green isle in the middle after about 700 meters (constructed in 1906). This is mainly a residential area, so you won't be finding any fancy stores here. The two-way avenue was principally designed as the residential street, with luxurious villas, and it preserved that character since.
It got the name from the Serbian word for "crown", the major symbol of Monarchy. Serbia was a kingdom for the greater part of its history, and this is a way of honoring its tradition and legacy. The purpose for this kind of peaceful and luxurious area in the center of the city, especially after the Great War (1914-1918), was to strees the wealth of the kingdom.
Turkish Embassy
When you walk from Pioneers Park, where it begins, to the "Kalenić" green market, where it ends, you experience kind of inner peace, as the atmosphere that surrounds this road is calm and refreshing. And you will feel like you are flashed back a century, to the beginnings of 1900's.
The first building, at the corner with Kneza Miloša street, is the Turkish Embassy, a building that is considered as a monument of high cultural importance because of its ravishing architectural style. One of the greatest Serbian poets, Jovan Jovanović Zmaj (1833-1904), lived there in his time.
Further along the way, at no. 8, there is the Home of High-School Students "Jelica Milovanović" (srb. "Dom učenika"), constructed in 1912. It represents a fine example of Serbo-Byzantine style of architecture, so it will immediately catch your eye. As well as the next building, at no. 10, also built in a Serbo-Byzantine fashion.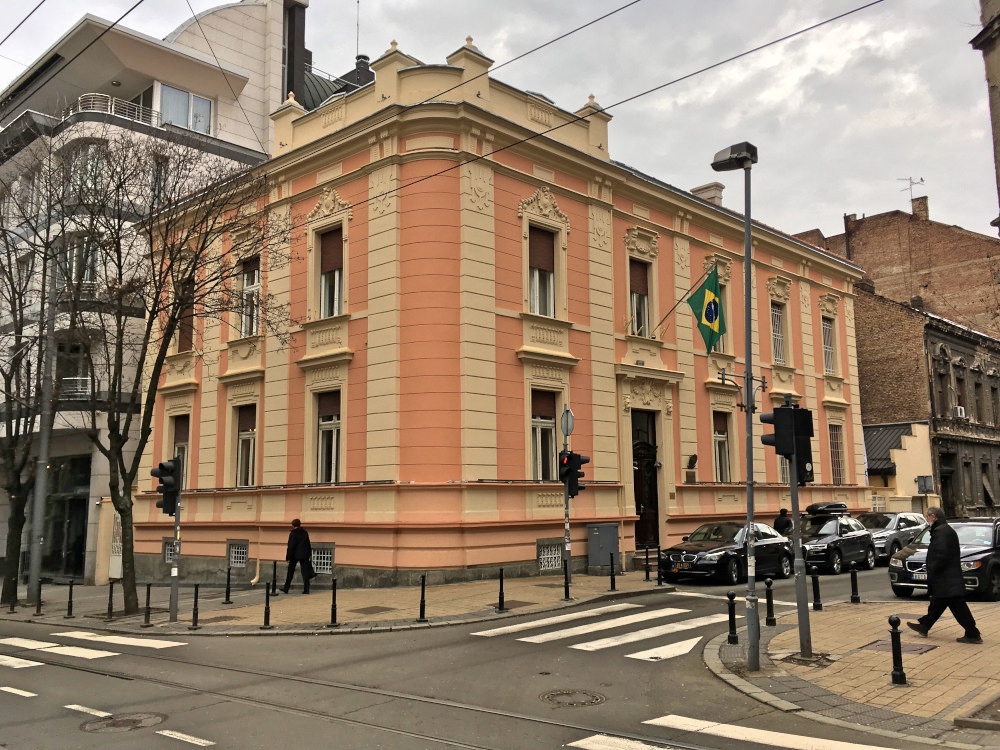 Brazilian Embassy
On the next corner (with Resavska street) lie two beautiful buildings, of the Military Pension Fund and of the Brazilian Embassy. Next corner, with Svetozara Markovića street, is a chance for you to admire the building of the Law Academy, which is currently under reconstruction. if you go down Svetozara Markovića street, you will reach Njegoševa street, and Flower square in a couple of minutes.

In-between corners with Resavska st. and Svetozara Markovića st., you will find a Roman-Catholic cathedral of Christ the King (at no. 23), the oldest catholic church in the city, finished in 1927, and the principal cathedral of the Archdiocese of Belgrade. Across the street is situated the Belgian Embassy.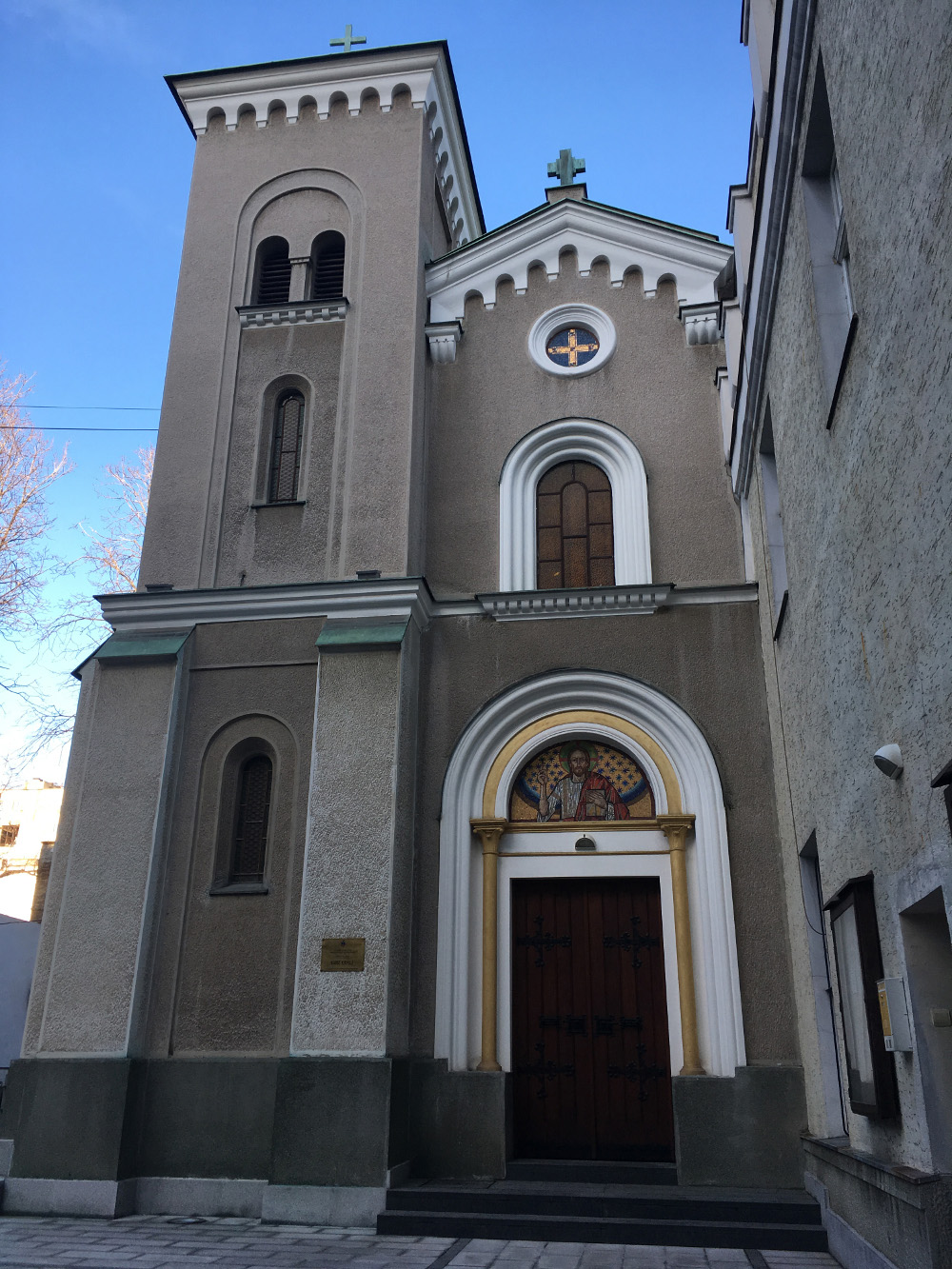 Cathedral of Christ the King
After the intersection with Beogradska street, it becomes an avenue. On the right you will see a most interesting residential palace built in 1932 in the neo-renaissance fashion. Immediately, on the left you will find the world famous Nikola Tesla Museum, located in the building ("Genčić family house") from 1927 (or 1929).
And going further down the road the scenery is built in the same fashion, old villas mixed up with 5 to 6-floor residential buildings. And possibly the tallest building of the Students' Polyclinic.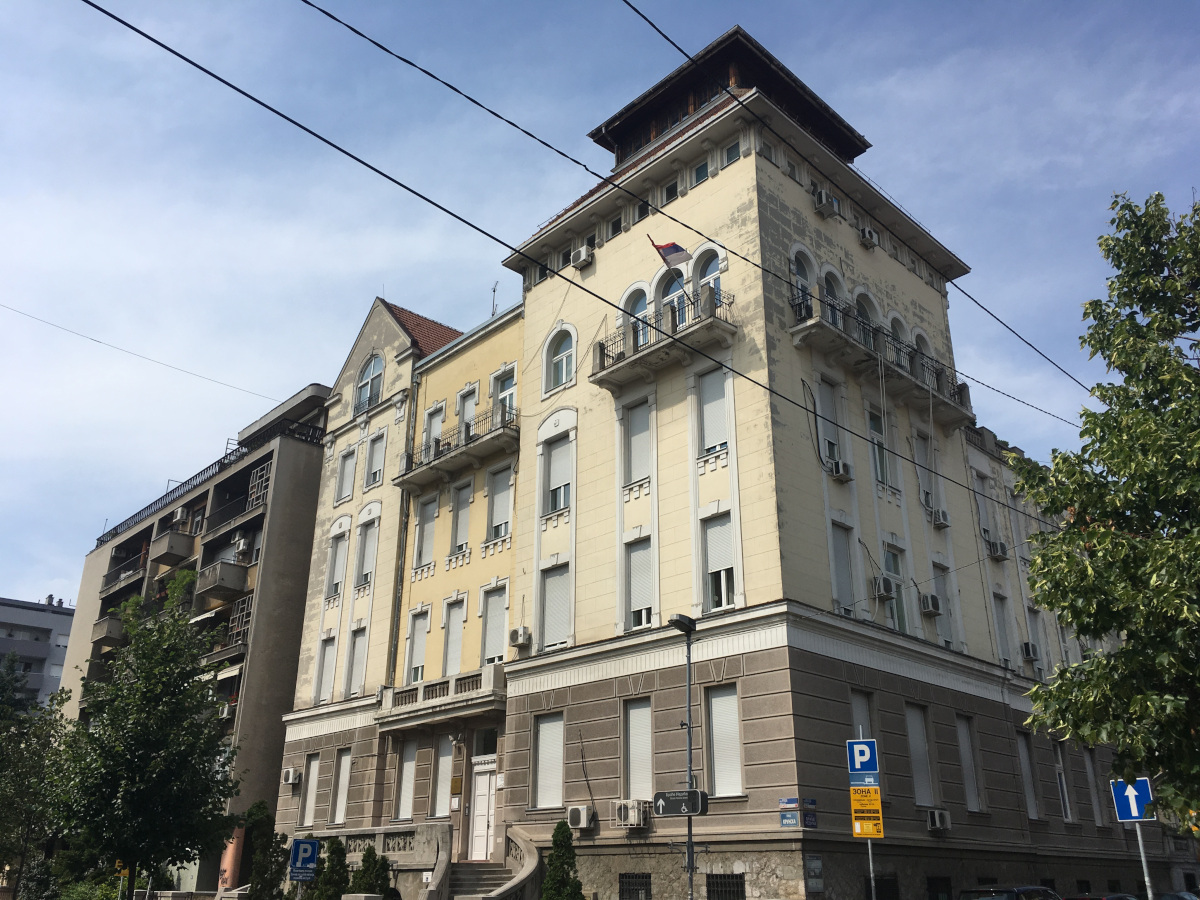 Students' Polyclinic
In Krunska street you can find even more embassies (of Bosnia & Herzegovina, Spain, Hungary), and headquarters of various organizations and companies.
When you reach the end of it, at the intersection with Baba Višnjina street and Vojvoda Bojović park, look at the dashing building on your right (at 90, Krunska st.). If you go a bit further, you will find yourself in Kalenić green market, one of the biggest farmers markets in the old town.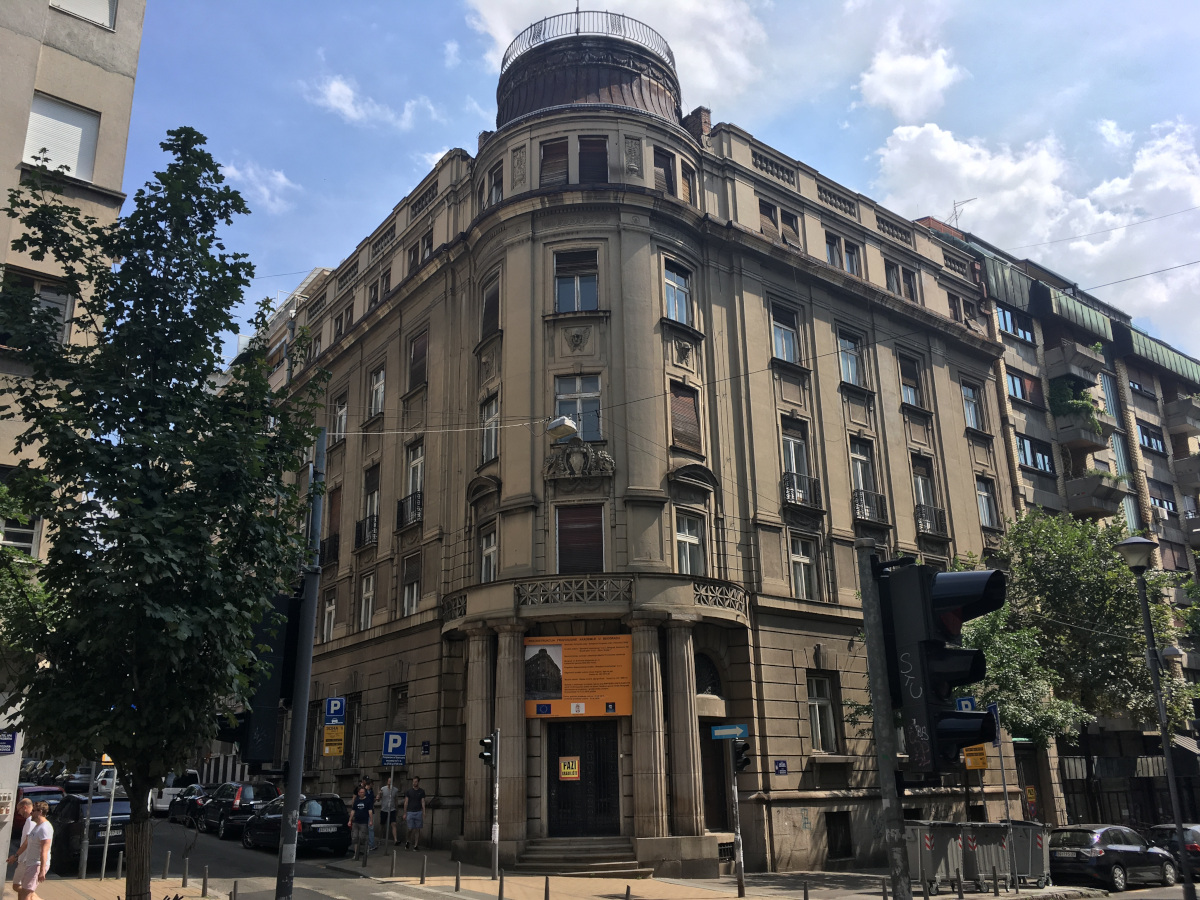 From there, you can go left, straight to Bulevar Kralja Aleksandra (King Alexander blvd.) with Vuk Karadžić monument and Cyril and Methodius park, and the Faculty of Technical Sciences with Nikola Tesla's monument in front of the building. Or, you can go right, straight forward to St. Sava's Church (at approx. 500 meters).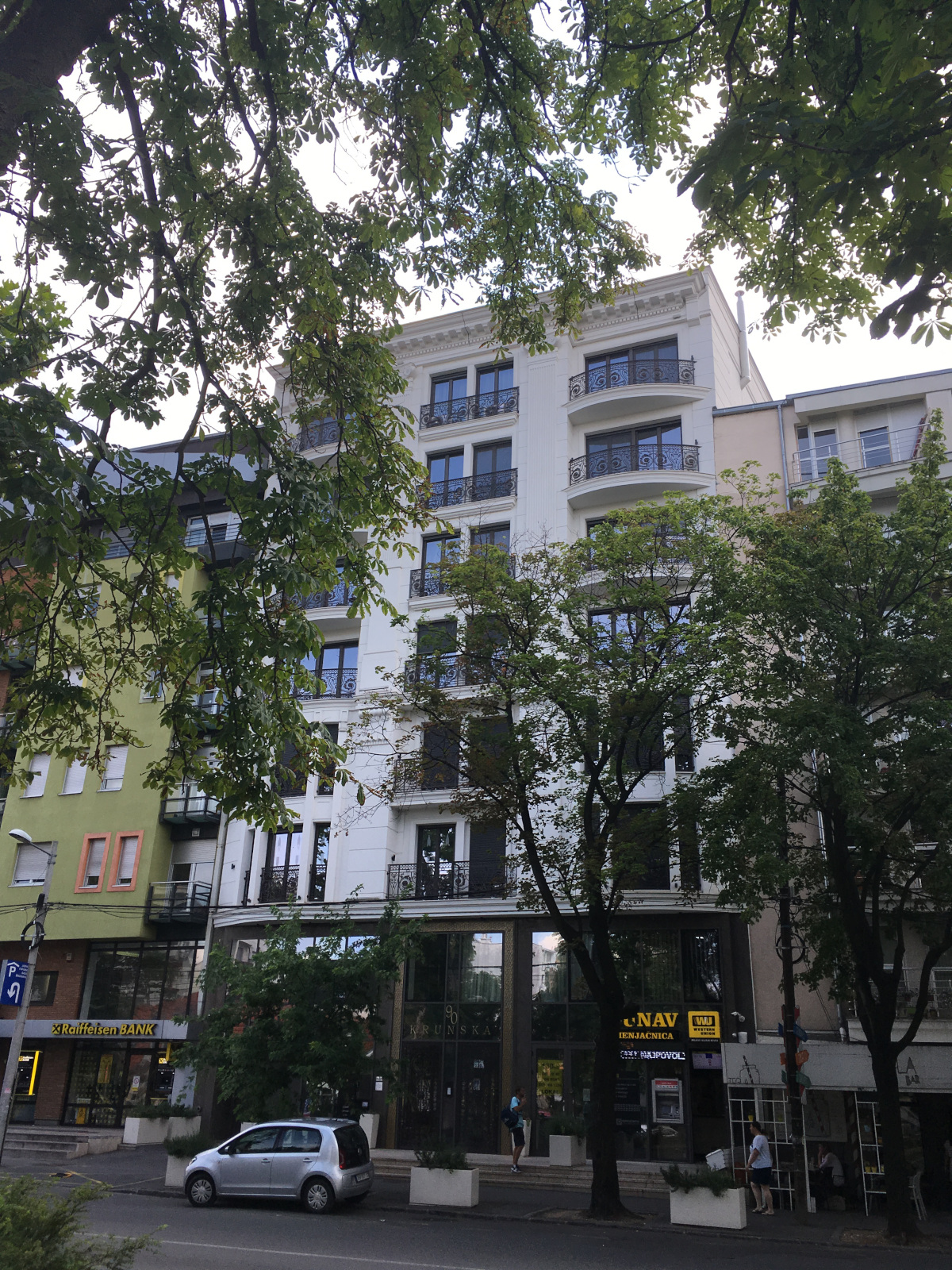 Here we present in details some of the iconic buildings at Krunska street.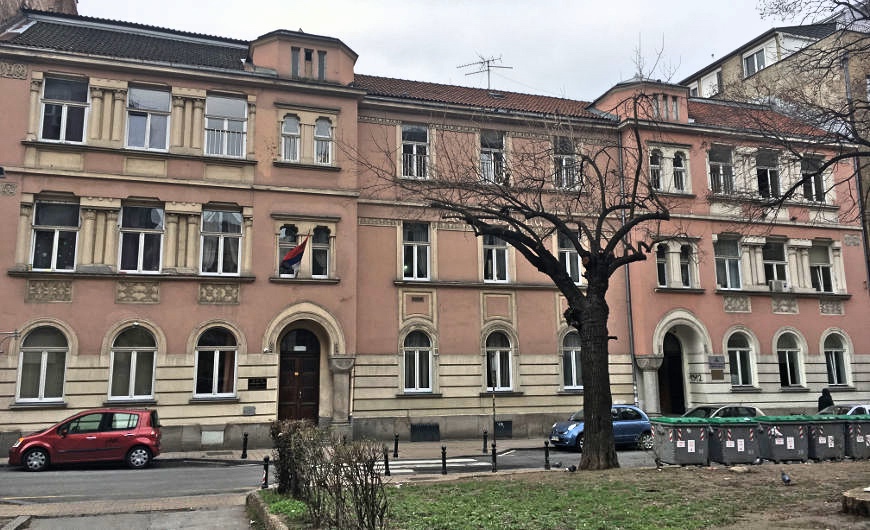 Home of High-School Students "Jelica Milovanović"
One of the very first buildings in Krunska street (eng. "Crown street"), at no. 8, is the so-called "Students' Home" (srb. "Dom učenika"), constructed in 1912. It represents a fine example of Serbo-Byzantine style of architecture, so it will immediately catch your eye.
Year of construction: 1912

Architecture: Serbo-Byzantine

Location: 8, Krunska street, Vračar district
It is on your way from Andrićev Venac street and the Pioneers Park to Nikola Tesla museum, so pay attention to your right when you enter Krunska street.

---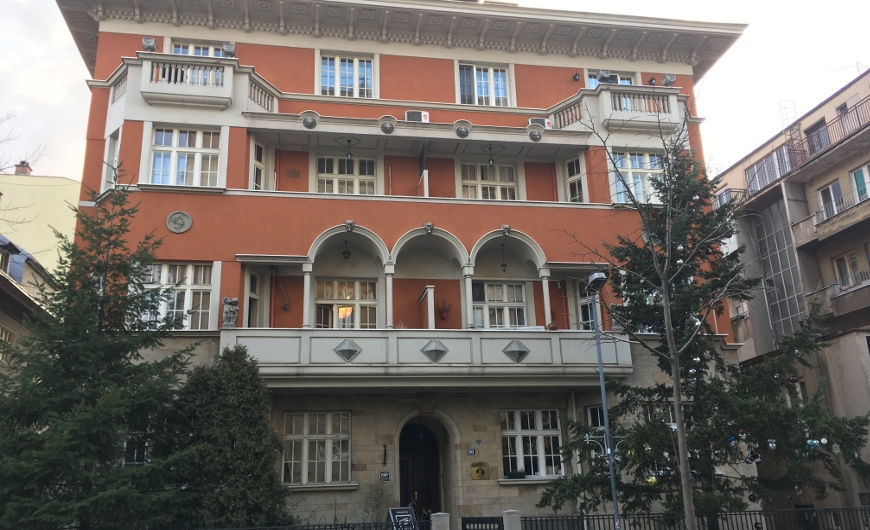 Residential Villa
This curious residential villa is located in Krunska (Crown) street, right accross the famous Nikola Tesla Museum.

Year of construction: 1932

Architecture: neorenaissance style (similarities with "Palace Athens" at Terazije square).

Location: 50, Krunska street, Vračar district
Is this a piece of art or just an attempt which ended in somewhat flashy or even kitschy example of a residential building? Not very clear. The opinions differ. The villa itself is located at the upper Krunska street, on the spot where it becomes a two-way avenue. This building is positioned diagonally across the Old Genčić House, which is now the Nikola Tesla Museum. These two are making an awkward, but interesting pair, in a sense that, contrary to showy looks of our residential villa, the house of Nikola Tesla Museum was built in a strict academic style. So, pay attention to this palace, as some called it, when you go to visit the world famous Tesla Museum, which is, of course, an absolute must.

---

Nikola Tesla Museum was founded in 1952, and opened in 1955. The museum guards Tesla's scientific and personal legacy, and all of his belongings were moved from New York to Belgrade in 1951 following his own wish.
There is a vast documentation of Tesla's papers, letters, drawings and other manuscripts that gives us a precious insight on his work and his personal life. The museum also has a reading room with books and magazines from Tesla's personal library.
The exhibition rooms show us models, layouts and pictures of Tesla's inventions, but also his personal items.
Architectural style: Academism

Year of construction: 1927-29

Location: 51, Krunska street

Nikola Tesla is one of the greatest inventors of all times. He was born and raised in Serbian-Orthodox family, in the village of Smiljan (then Austrian Empire, now Croatia) with predominant Serbian population, but most of his life he spent in the United States. He visited Belgrade just once, in 1892. During his visit, that lasted less than 2 days, he was decorated with the "Order of St. Sava, II Class", he was received by the king Alexander Obrenović, he visited the National Museum and the University, where he gave lecture to students and professors
"As you can see and hear, I remained a Serb even though I live far away, overseas, where I do experiments. You should do the same, with your knowledge and work you should spread the glory of the Serbian name in the world", said Tesla to the students
Tesla's birthday, July 10th, is celebrated in Serbia as the Day of Science.
In Belgrade, Tesla has two monuments - one in front of the Faculty of Technical Sciences, and the other, newly placed, at Vračar Plateau, in front of the National Library.
Belgrade Airport is named after Tesla and is officially called "Nikola Tesla Airport".
Nikola Tesla Museum, about the man who illuminated the world, "welcoming over 135.000 visitors annually"
Opening hours:
9.45 am - 8 pm, closed on Monday
Admission:
500 RSD (cca. 4 euros)
Detailed info:
Visit the Official Web-Site

---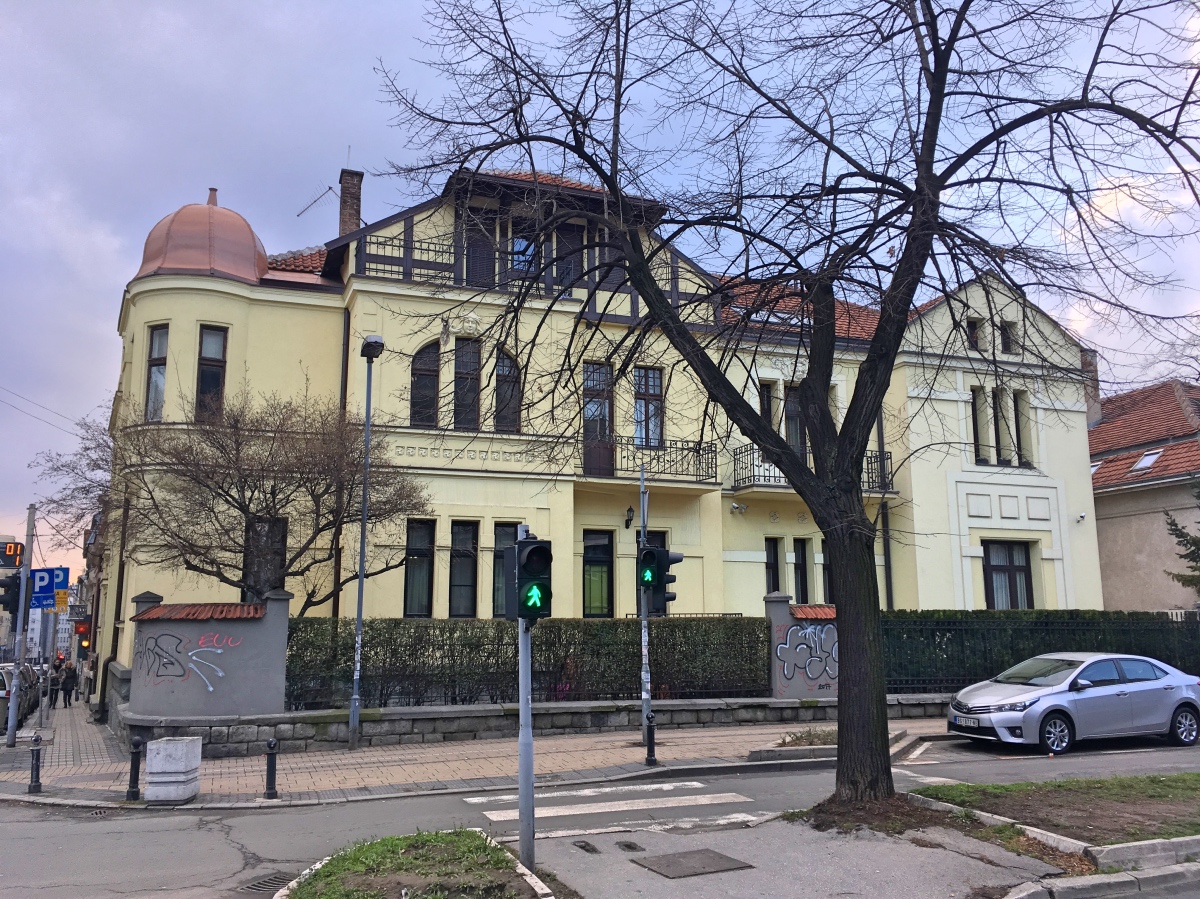 Šafarik House
Maybe the most interesting building in Krunska street, or even in the whole Vračar district. It was built and designed by Janko Šafarik, a Serbian of Slovak origin. His familiy was well known in Serbia.

Year of construction: 1912

Architecture: mixture of styles

Location: 73, Kneginje Zorke street, Vračar district
Janko Šafarik was an architect but more importantly, a great football fan. He was even the president of the National Football Association, and led Yugoslav team to the first World Championship in Montevideo, Uruguay. The building, however, is interesting because it is virtually impossible to determine the predominant architectural style that led Šafarik while building his home. Looking at it, for sure you'll get the sense of mixed feelings as well.