Balkanska street is a street that led many of the newcomers from the Main Railway Station to the city center back in the old days. Now it is just a long narrow street, covered with cobblestone in the lower part, which reminds the old citizens of Belgrade how much the city has changed.
The street preserved its original name from 1872, and it stands for Balkan peninsula, the geographic location of the Serbian state. It goes on from Nemanjina street, near the Main Railway Station, crosses Kraljice Natalije street, all the way up to Terazije square, and Hotel Moscow (about 600 meters long). On the other side of the street from Hotel Moscow, in 2008 the first "smart" building on the Balkans, as they call it, was built and named "B2", as it is located at 2 Balkanska street.
Back in the days the street was a trade center of the city, with plenty of shops, craftsmen, and places you could buy almost everything imaginable. Nowadays, it lost its purpose, but you can get an idea of its significance from old and ruined facades and small houses that once were full of life.
Now, this is the quickest way from Terazije square to newly constructed Belgrade Waterfront, and promenade by the river.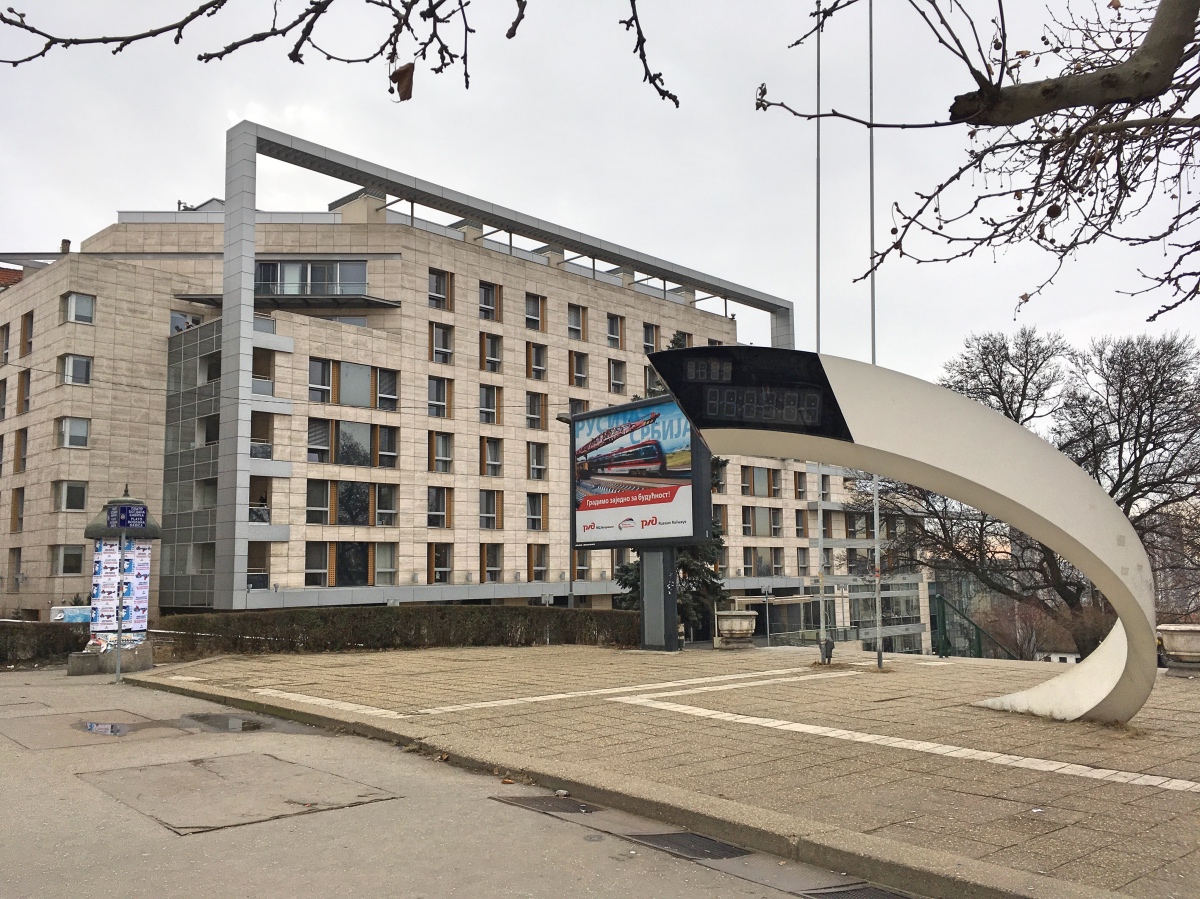 B2 smart building
This building was constructed from 2005 until 2008, principally for commercial use, and at the time it was the first smart building built in the Balkans, or so they said. It has a unified electronic system of control. It is called B2, as it is located at no. 2 Balkanska street, right accross Hotel "Moskva", and Terazije fountain. It overlooks Terazije Terrace, a slope that connects principal city square of Terazije with "Zeleni Venac" green market and further with Savamala historical district.
Built in the surroundings of an old, in classical sense, but also often worn out sets of buildings, this 21st century modern edifice looks refreshing. In 2012, the so-called "Olympic Clock" was placed on a plateau nearby, that perfectly fits into somewhat futuristic look of this tiny piece of Terazije Square. It gives us hope that better times are ahead of us, that Belgrade will guard its tradition but progress at the same time. The Terazije Terrace, in front of the building, needs to be taken care of, and as it was announced, the plans for its reconstructions are on the table.