Belgrade Fortress is situated on the hill, overlooking the confluence of the river Sava into the Danube. It started as a Roman military camp in the early 1st century AD, growing into a simple fortification, and over the time into a true and powerful fortress. Until present day it remained within the boundaries of the old town and city's center.
After the Romans, the structure was further built, rebuilt, developed and modified throughout the centuries by the Byzantines, Hungarians, Serbs, the Ottoman Turks, and the Austrians (Habsburgs).
"Zindan Kapija" (eng. "Zindan Gate")
Belgrade Fortress has two levels - the upper and the lower one. Nowadays, on the downhill on the Eastern side, the Belgrade Zoo is located.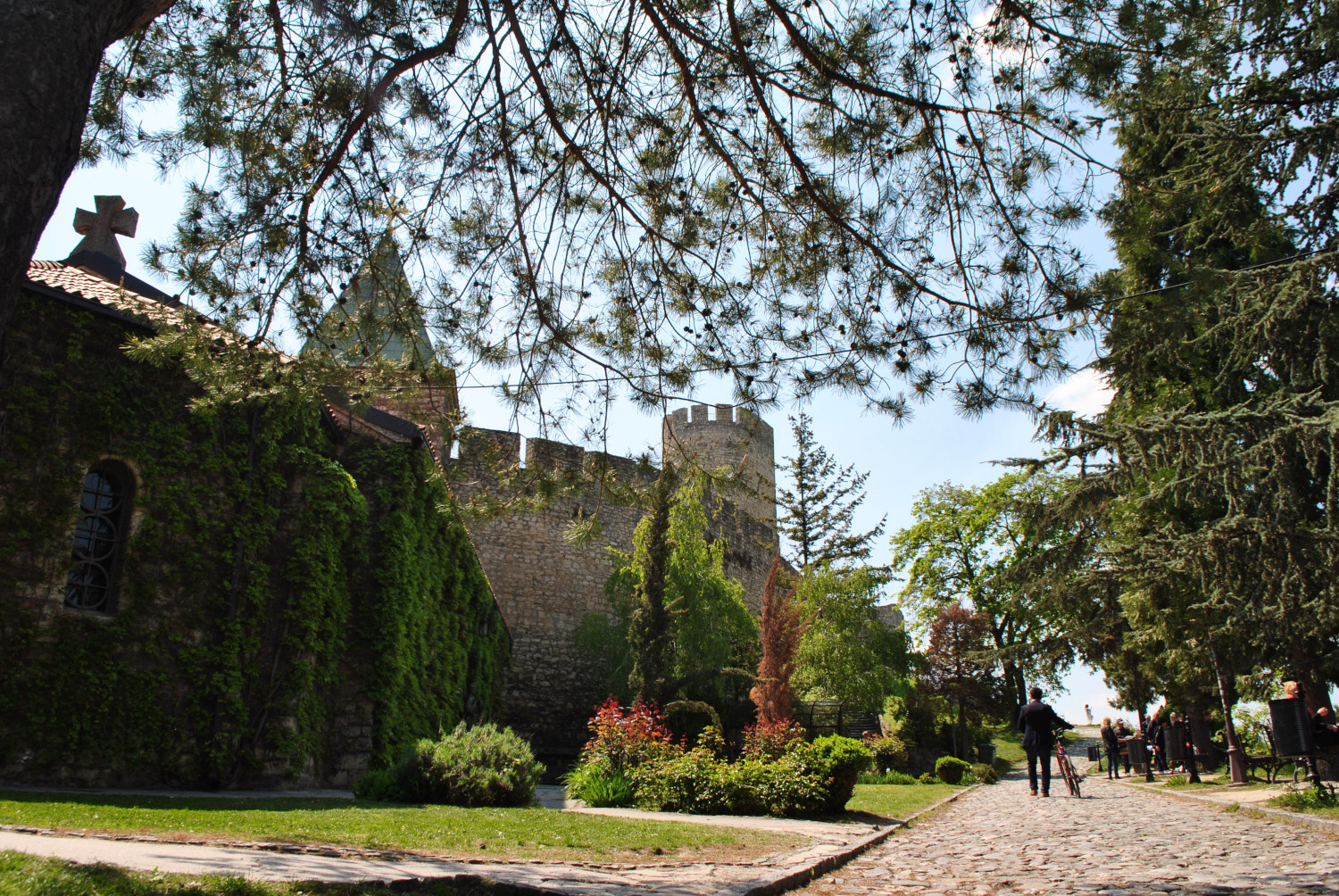 The upper level is turned into a seemingly vastly large "Kalemegdan Park" with lots of monuments honoring famous people from the Serbian history. In addition, there you can find an art pavilion ("Cvijeta Zuzorić") - a wonderful exhibition house from 1928 in Art Deco style.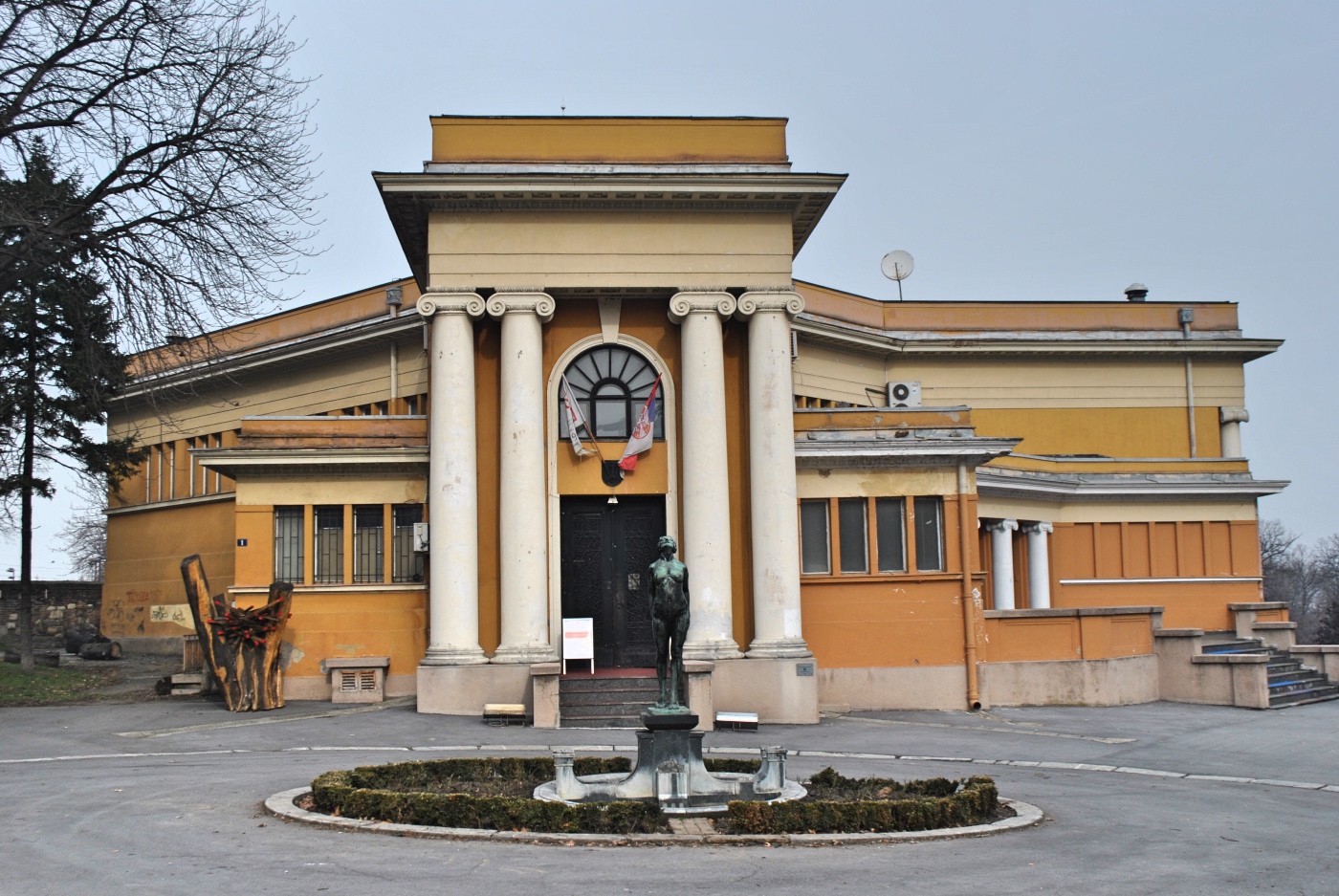 Art Pavilion Cvijeta Zuzorić
Then, there is the Military Museum (with an open display of tanks, cannons, missiles and other weapons), the Despot Stefan Tower (built around 1405, after Serbia became a Despotate under the rule of Stefan Lazarević, and Belgrade becoming the capital of the state), a dungeon called the "Roman Well", and the statue of the "Victor", considered as the main symbol of Belgrade.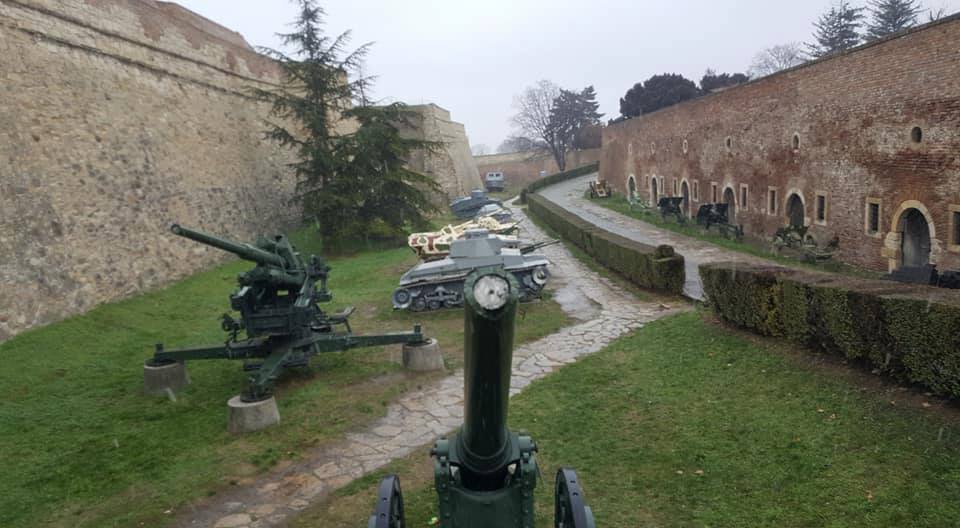 Military Museum
There are a lot of nice fountains in the park, the big monument errected in gratitude to France, and a cosy promenade looking down on the river Sava, which is occasionally converted into an exhibition place, displaying artistic photos or various kinds of installations.
Monument Gratitude to France
Entering the fortress' walls, you are going into a proper castle with wooden bridges, towers (like Clock Tower), inner city gates, canals that once were filled with water, and among these magnificent structures you will see tennis courts, basketball courts, walking paths, Gallery of the Natural History Museum and even a Dino Park, for children to play among the giant figures of creatures that once walked this Earth.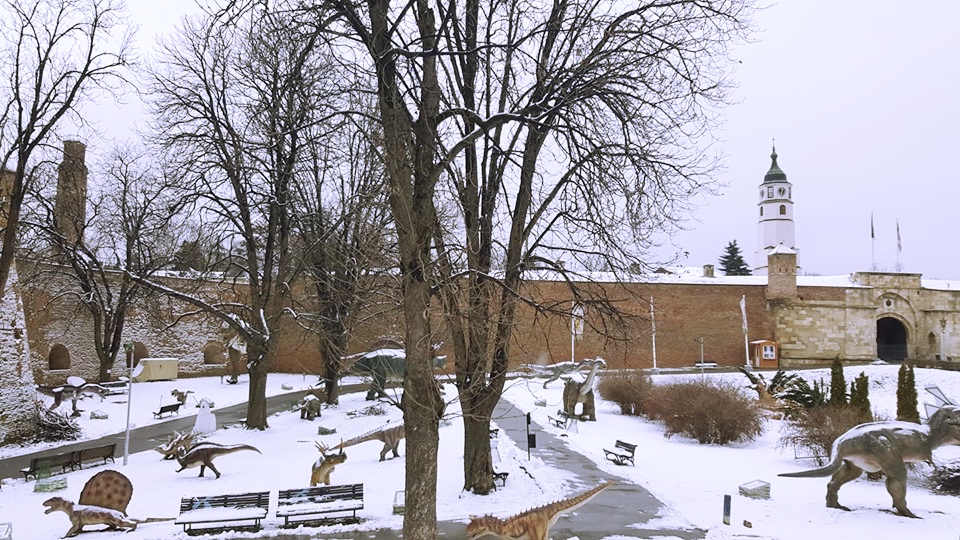 A view on Clock Tower
On the eastern side, close to Belgrade Zoo, there is an amusement park. So, at the Belgrade Fortress you can have fun all day long, and you can engage in various kinds of activities. Or, you can just enjoy walking around. No charge for that.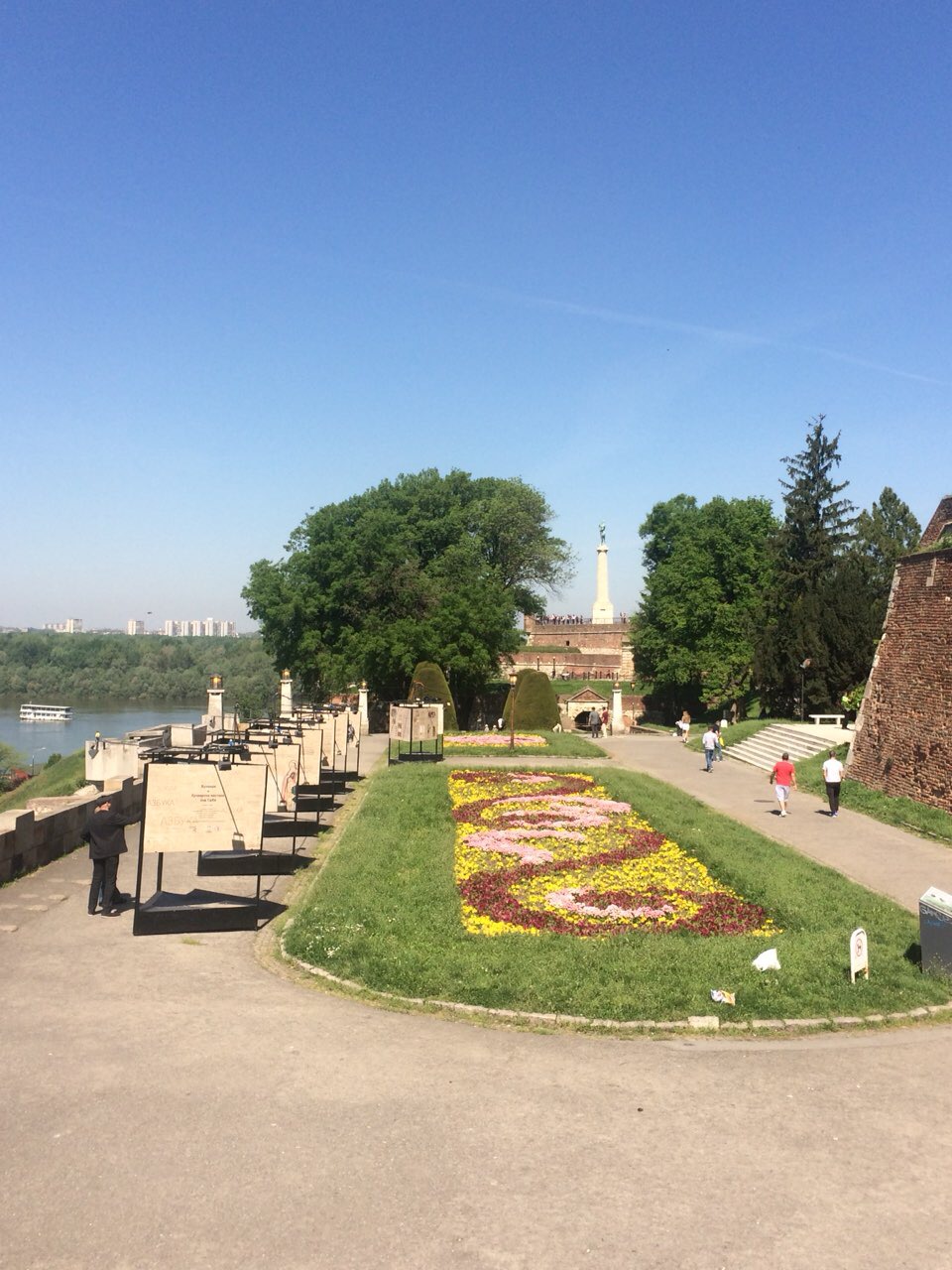 A view on the Statue of the Victor
In the lower part you can find Kula Nebojša ("Dardevil Tower"), two orthodox churches of St. Petka and Ružica, and the Belgrade Planetarium. There is also a night club at the open, called "Barutana", after an old Turkish ammunition depot.
On Sunday, September 3rd, 1939, Belgrade hosted a Grand Prix race (competition that evolved into Formula 1 after WWII) around the Fortress with more than 70 000 people in attendance. So when you cross the street to enter the "Kalemegdan Park", imagine powerful engines racing there nearly 80 years ago, imagine the fumes, the crowd cheering, and you'll get an idea of Belgrade, the place with such an abundant history, and with stories emerging from every stone embedded in its roads.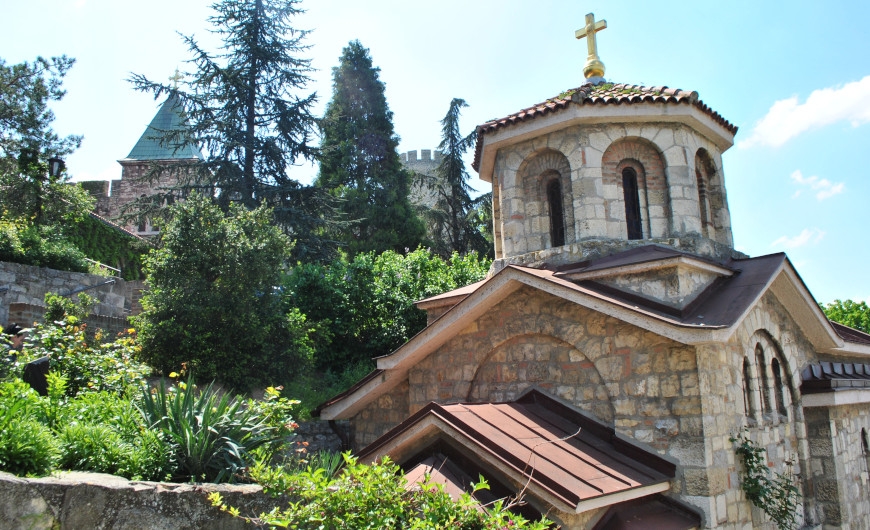 Church of St. Petka
The Church built in honor of St. Petka, great Balkan Christian-Orthodox ascetic, is located in lower part of Belgrade Fortress.

Built on the spot of the miraculous wellspring of St. Petka in 1937, next to previously errected Church Ružica, this chapel, in fact, represents the new version of much older chapel (built around 1400 ) which was later destroyed. On a petition of Serbian Princess Milica, part of St. Petka's relics were brought to Serbia and placed in 1417 in the Chapel of St. Petka. Later, after Turkish conquests, the relics were taken to Constantinople and in the end they were redeemed by a Moldavian nobleman and transferred to Romanian city of Iasi. But Church Ružica still keeps one particle of St. Petka's relics.
The Chapel was officially opened in 1937, on St. Petka's day, which is October 27th.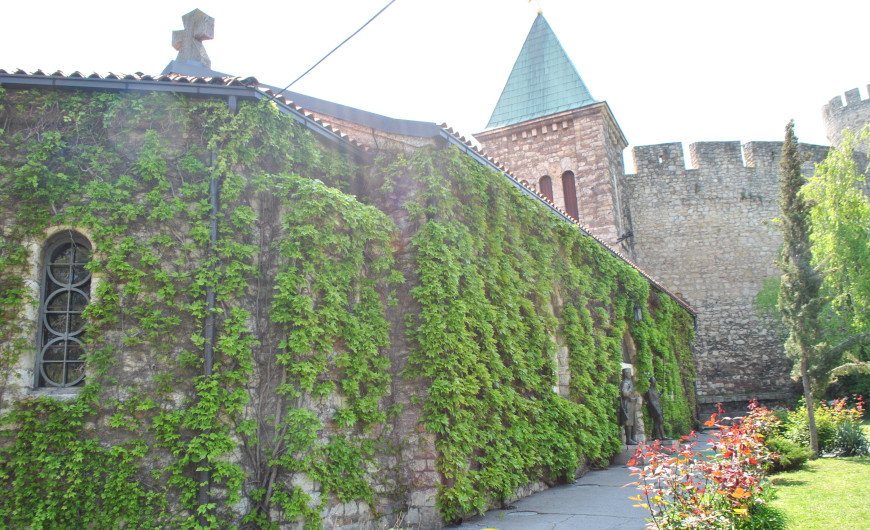 Church Ružica
Church of the Holy Virgin Mary, also called "Ružica" (eng. "Little Rose"), was founded in 15th century in the lower part of Belgrade Fortress during the Serbian Despotate and the reign of Stefan Lazarević.

The medieval church was destroyed by the Turks in 1521, when they conquered Belgrade. On the same spot, the new church was errected in 1869, after Prince Mihailo Obrenović got the keys of the City of Belgrade in 1867, which meant that it belonged to Serbia and the Serbs once again. It is said that Church "Ružica", the medieval one, was actually the oldest church in Belgrade, but no one nows exactly when it was built. What is commonly known is the fact that it was errected by the wellspring of St. Petka and the stream of water run beneath its foundations. The name "Ružica" is after one of three sisters who aledgedly built three churches, one each, as their endowment.
A particle of St. Petka's relics, great Balkan Christian-Orthodox ascetic, revered deeply by the Serbs, are still kept in this church.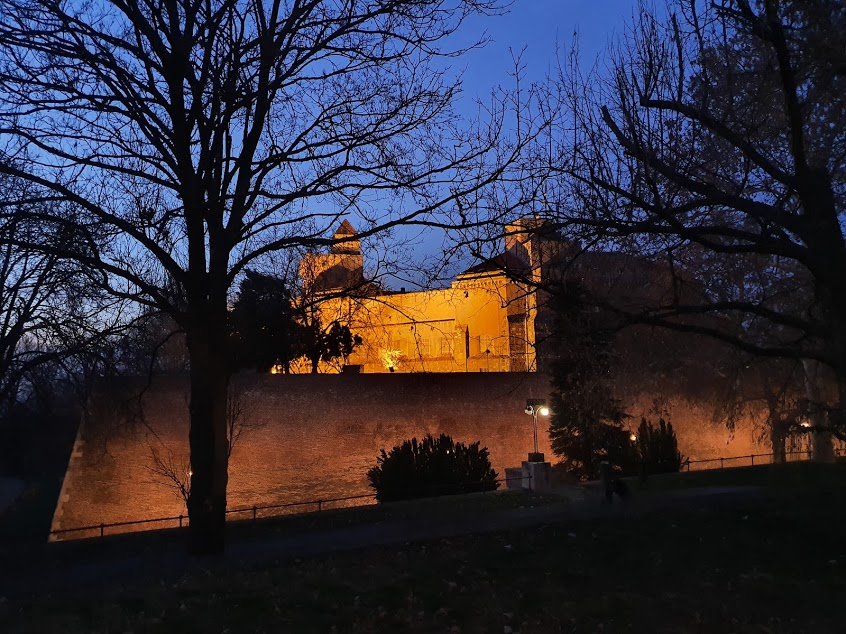 Military Museum
Placed in a wonderful surroundings of the Belgrade Fortress, Military Museum possesses a truly unique display of military related stuff from the period that covers more than thousand years of unsettling and troublesome history in the Balkans. The museum consists of a large building and surrounding open space.
The Military Museum resides in its present location since 1959. The building itself was constructed in 1924 for the purpose of holding the residence of Military Geographical Institute.
Military Museum // More than 3000 objects depicting warfare in the Balkans across centuries
Working hours:
10 am - 5 pm, closed on Monday
Ticket:
200 RSD (cca. 1.7 euros)
Detailed info:
Visit the Official Web-Site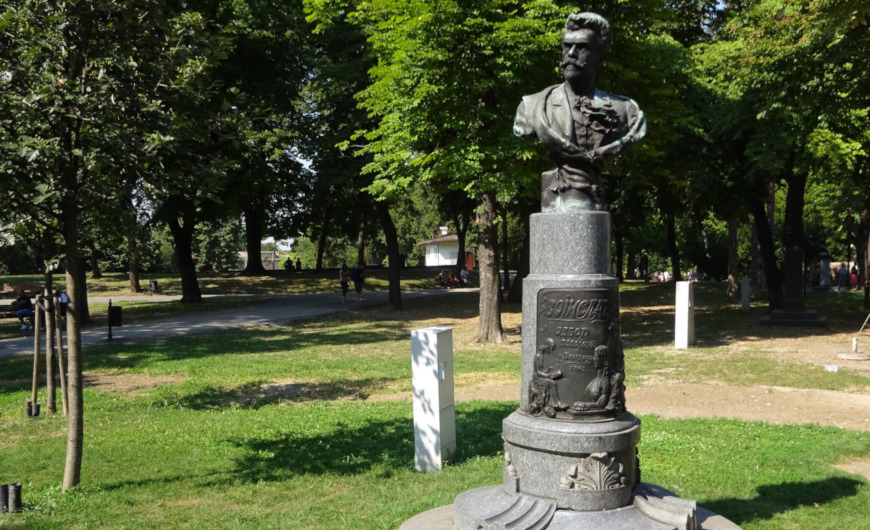 Belgrade Fortress: A Poetry Walk
(article from Belgrade Tips)
On a vast terrain of the Belgrade Fortress there is a pretty big Kalemegdan Park, a place of serenity, nature and walking paths that cuddle the statues of Serbia's finest people. We took a "poetry walk", and said hello to some of the greatest Serbian writers you can meet there.
First we met with Vojislav Ilić, a man who converted the love for his country into most wonderful words and verses. Look at us now, Vojislav - I said to him, - would you still be writing about your beloved country? He didn't even bother to answer me. Of course he would, I thought slapping myself on the forehead. Forgive my imprudence. True love is timeless. You know, I often cite your words to my friends from abroad - I tried to gain his affection, - especially the verses from your song "Homeland" when you say, in my adapted English words, something like "Let elsewhere be fine, even poor I feel you mine". I know, it sounds better in Serbian. Sorry for that. But still, they got the point. You wrote it from your heart, because you lived exactly like you described - I assured him as if he didn't already know that. I turned to the friend of mine, who accompanied me that afternoon. It is fascinating - I said to her, - that he managed to accomplish so much in just 32 years of his life on Earth. He died young, unfortunately. But even so, he is remembered as one of the great ones. The look in his eyes, pay attention, is soldier firm, trying to be serious, but gentle at the same time, like a fun-loving bohemian rascal. Defiant, even. But most of all, loving. I think that she didn't understand at all what I was saying. But you understood me, Vojislav, I am sure of that. However, I must leave you now. Glad we had this little chat - I said waving my hand... read full article.