We organized a quick Q&A with Massimo, who was in Belgrade to explore the city and to get to know a little bit more about Serbia and Serbian culture.
Q: Did you know something about Belgrade before you came here?
Massimo: I heard about Nikola Tesla, obviously, and I visited his museum as soon as I came. Then, I knew about the war and the bombings in the 1990', and that it is a place of great and turbulent history. And that was pretty much it. And that's why I like to discover new places, to be empowered by knowledge. What I usually do when I go to a country for the first time is that I explore it freely, and when I go home I start to read about it. Some people do it before the visit, but I like to do the opposite. For me it makes more sense to feel and to experience something and then later to get to know the background of it.
Q: What did you expect to find here?
Massimo: I expected to find a completely different culture than in Italy. I expected to find many charming people, and I did. Generally speaking, I wanted to feel the atmosphere of the city, and to try local food. The food is very important to me, I like to try it abroad.
Q: What is the first thing you've noticed in Belgrade?
Massimo: I call it 50 shades of gray. There are lots of gray buildings, but with different shades. It was fascinating for me. And the people are very nice.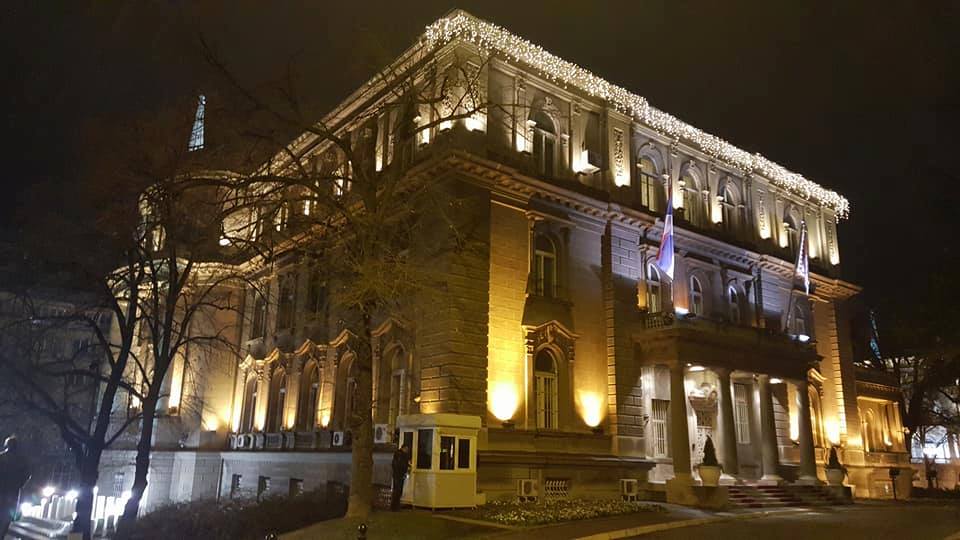 Old Palace (now Presidential Palace) photo courtesy of Massimo
Q: Describe Belgrade in one emotion (describe the emotion, if Belgrade was a feeling, what it would be?).
Massimo: Vintage. Feeling of some kind of ritual atmosphere.
Q: What you dislike about Belgrade?
Massimo: I didn't spend so much time here to dislike something. I do not want to be polite, but I liked pretty much everything. Even when the weather was gloomy it added to the charm of the city. I don't know. Maybe I can say that I disliked my room in the hotel.
Q: Compare Belgrade to your native city. What are the advantages/disadvantages?
Massimo: I don't live in the Capital, like Rome. It doesn't have such amenities as Belgrade. I live at the seaside, and the weather is probably nicer, warmer. Belgrade is more of an international city, and my town is maybe more colorful. My city is very modern and maybe lacks some traditional charm. I would like more history in my city. Belgrade, on the other hand, has a very rich history. What I would like to do more in Belgrade is to meet new people.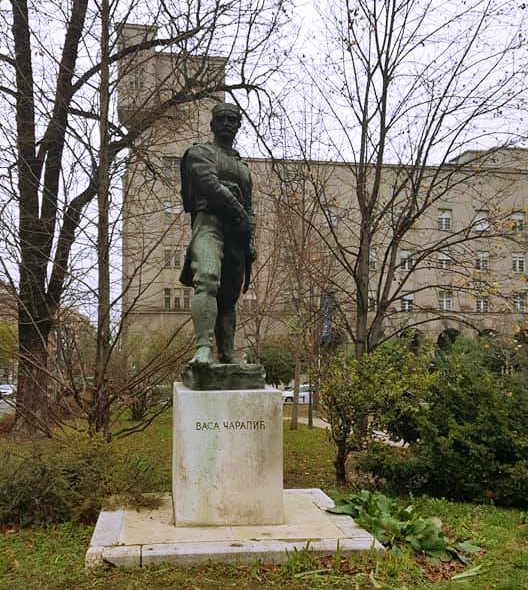 Monument to Vasa Čarapić and the Veterans' Club Building
Q: What do you think about people in Belgrade?
Massimo: People are willing to help you if you are in trouble or if you are lost in translation. Even the bus driver told me where to get off, he was very nice and polite. It is very important, because if the travelers feel welcome they would want to come back. And in Belgrade that is precisely the case.
Q: Could you live in Belgrade?
Massimo: Every time I go to a new place I think maybe it is a new place for me to live. In fact, I was looking at some job opportunities and I found one in Belgrade, but I wanted to come here first and see the city with my own eyes. And I would definitely say yes, I would live here, at least for a year. It would be interesting and I could find out a lot more about the culture and the Balkans in general.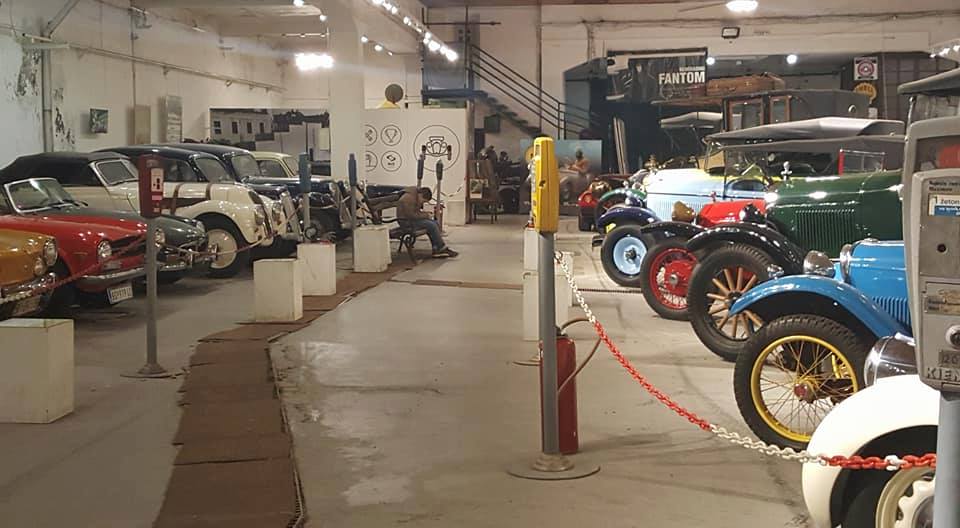 Auto Museum Belgrade (photo courtesy of Massimo)
Q: Name one city anywhere in the world you think is similar to Belgrade (no matter if you have visited it or not, give us your impression).
Massimo: I think it`s pretty unique, "retro" I would say.
Q: What was your most memorable moment in Belgrade?
Massimo: Yesterday when I took a walk it was snowing, and it was really charming, it added up to the whole Christmas atmosphere. And I was passing by Saborna Crkva (St. Michael's Cathedral) and I heard holy music inside, and with snow flakes falling on me, it created a really magical atmosphere.
Q: Would you return to Belgrade (express that probability on a scale from 1 to 10).
Massimo: Definitely an 8. I would like to come back in the springtime, or in the summer, to see what is happening around the city then. I would like to go by the lake and to see that fantastic castle that reminded me of the Game of Thrones, I think it is located in Zemun. I discovered that even my grandfather visited Belgrade on two occasions, in 1980`s. He was in Serbia and Hungary for hunting.
Follow Massimo Donatelli >>> Instagram