We organized a quick Q&A with young German couple, who was in Belgrade for Christmas holidays. Maren is 21, from the north of Germany, and Darius is 24, he comes from Bavaria.
Q: Did you know something about Belgrade before you came here?
Maren: No, I didn't know anything. I really wanted to come here for a long time. I've been to Hungary a few times, but I've always thought Serbia was cool.
Darius: We only knew that it was the Capital of Serbia, and that it is easy reachable by train from Budapest, and Budapest, on the other hand, is good to reach by train from Germany, so we decided to come here. We saw a few pictures from Google, but we didn't want to spoil the impression. So we just came.
Q: What did you expect to find here?
Maren: Actually, I expected to find a city with Balkan music everywhere, all the time.
Darius: I expected probably something similar to Budapest, but a bit more oriental shaped.
Q: What is the first thing you've noticed in Belgrade?
Maren: Well, first thing I've noticed was that the train station "Belgrade Centre" is not actually in the city center.
Darius: We came from Budapest to Novi Sad and then we took a regional train expecting that we would arrive in the main station, but we arrived to "Belgrade Centre railway station" without any kind of main station hall, so we were a little bit perplexed. There was nothing there. And we were without a host, so we had to find our own way around. But then everything worked out fine, the hosts eventually drove us from the station. Apart from that, the government buildings look very nice, they are all in the same style with Christmas decorations. We have also noticed that while walking around, the lights on the buildings are very well adjusted.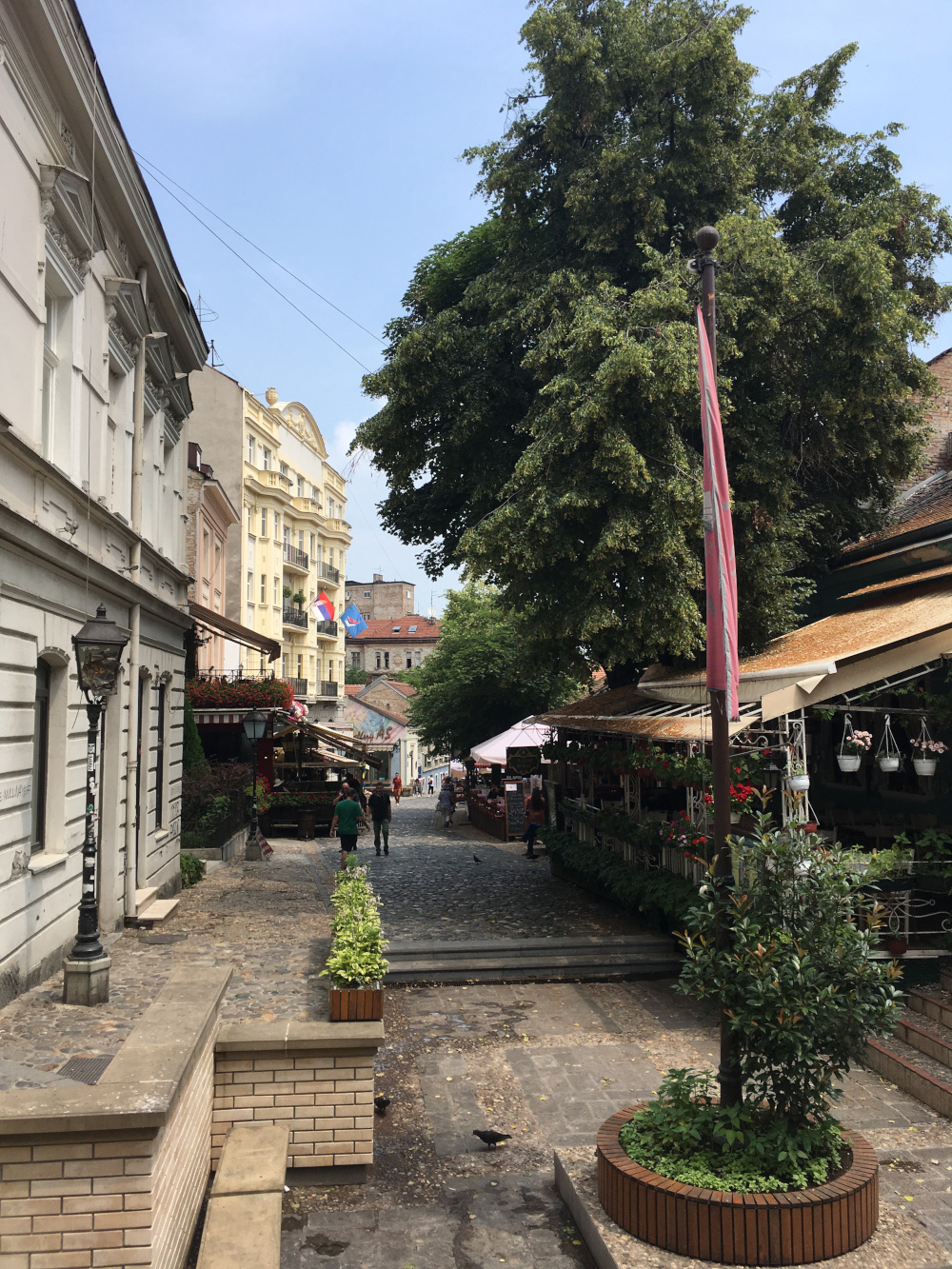 Skadarlija bohemian district
Q: Describe Belgrade in one emotion (describe the emotion, if Belgrade was a feeling, what it would be?).
Maren: I cannot describe it in one emotion because it is too diverse, there are so many different things going on, so I think it's not possible to fit it in just one feeling.
Darius: Lively, maybe. Especially in Skadarlija, we went there yesterday.
Q: What you dislike about Belgrade?
Maren: There is so much waste on the streets. We came from Germany, where everything is so clean and tidy, so that bothered me here.
Darius: Public transport was annoying. We tried to take buses and trams, but it was very difficult for us to find the route. Google maps doesn't work, you couldn't find a simple web app with departure and destination to show you the way. There is a map of public transport but it is way too high level and you cannot always find your position. You do not have machines at the stations where you can buy tickets, not like in other cities where you can find it on every major bus stop. So we didn't use public transport at all. But I think that it is easily fixable, you just need to put some proper time schedule for people to look it up and such minor adjustments.
Q: Compare Belgrade to your native city. What are the advantages/disadvantages?
Maren: I think that people here are lot more open than in my home town.
Darius: First of all, here everything is lot cheaper, food is of high quality and affordable to us. So we went to lot of nice restaurants.
Q: What do you think about people in Belgrade?
Maren: Very open and nice, as I said previously.
Darius: All the people we met were very open and friendly. Sometimes they had difficulties with English. Especially our hosts were very forthcoming and tried to help us in every way.
Q: Could you live in Belgrade?
Maren: I think I could live here, because I am the type of person that could live basically everywhere. But I don't like big cities for a long time now. I could live in Serbia, though.
Darius: I could live here for a short time period, for a few months, for example.
Q: Name one city anywhere in the world you think is similar to Belgrade (no matter if you have visited it or not, give us your impression).
Maren: I think maybe Bucharest, in Romania. I have never been there, but I really, really want to go to Romania. I think it could be kind of the same.
Darius: Prague, I think, has some parts similar to Belgrade. But I think it is more like South-Eastern countries, but I have never been there, so I cannot say for sure.
Q: What was your most memorable moment in Belgrade?
Maren: For me it was yesterday when we met a Serbian guy, Lazar, he was totally blind. We spend a whole evening with him and it was great, we enjoyed it very much. We sat in Plato caffe, then walked through the city and finished in Skadarlija, listening to folk music.
Darius: For me as well. I didn't have any close contact with blind people before and we just talked a lot about how he manages everyday life with blindness and how is he able to navigate through the city. He talked about everything. He even spoke to us in German. We learned a lot from him.
Q: Would you return to Belgrade (express that probability on a scale from 1 to 10).
Maren: Yes, I would give it a 9.
Darius: Yes, I think 7 for me. I would probably come by on the way to some other countries around.