Hi, I'm Ana Markov, writer, blogger and content creator. I've worked as a columnist, poet, journalist, copywriter, and (sometimes, maybe, when the need was strong) as an English teacher (you've got to use that Master's degree for something, I guess). Now, I help others tell their stories by working closely with my community, sharing advice, experiences and failures. I draw inspiration from Belgrade, the Balkans and famous Serbian "inat" (spite).
Why visit Belgrade?
Few years ago, I would've answered, DON'T! It sucks! But I was too young and unprepared for his charms.
Belgrade, our old gentleman, is a fine wine, an acquired taste, a unique frequency and when you get it, it's the best place in the world. A city since the Roman times, Belgrade has seen his share of (bloody) history. He has watched his two rivers (the only European capital to have that luxury) bring friends and foes, and lovers and smugglers, and food and money, life and death. He has changed according to the time, and the people changed according to him.
His faces are walls of Kalemegdan, pre-war facades, the brutal concrete buildings of Communism, modern-day glass skyscrapers and old taverns by the railroad. He can show you history from past millennia, take you through the works of masters, and give you a look into futures concocted by genius.
He grows on you with every coffee you drink in Knez Mihailova street and every person you meet by the horse on Republic Square. He finds a place in your heart when your plate and glass are full. And when he smiles (when his people smile) he takes you away from the world.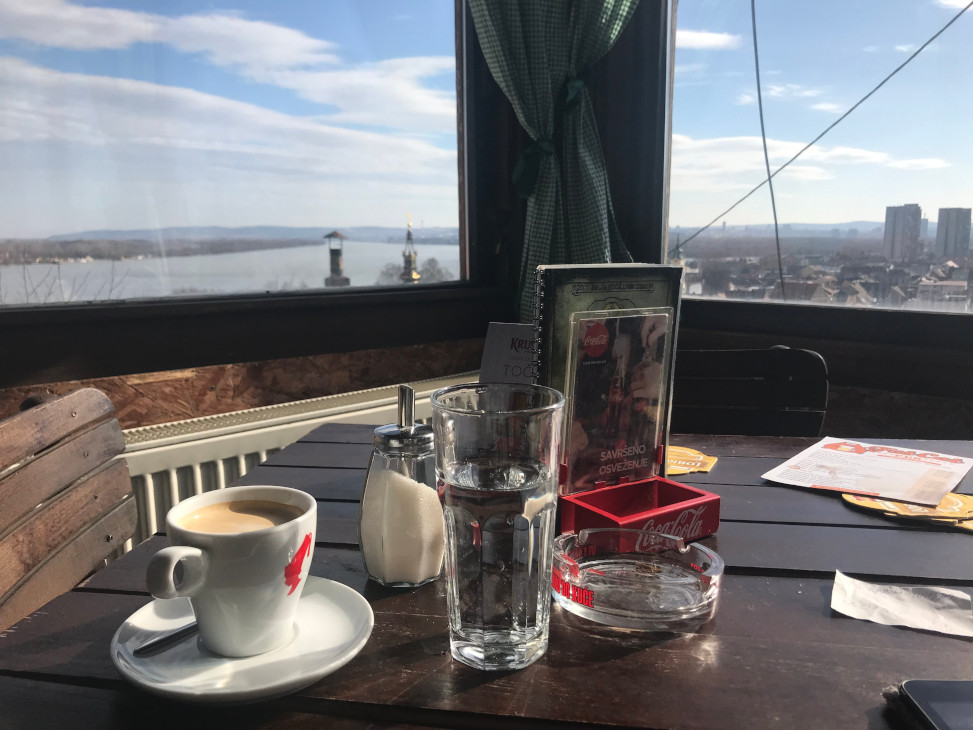 My favorite place to eat?
For organic, clean, vegetarian/vegan food (definitely not the traditional sort) I always go to Mandala restaurant in the historic district of Kosančićev venac. Top tip, during the summer days, they open the roof terrace with one of the best views over Sava river and it's bridges.
For a more traditional meal, still with impeccable service, I go to "Ćiribu Ćiriba" in Zemun. Fast food according to my taste is made in "Stepin Vajat", in Voždovac.
What to eat there?
In Mandala, try the best dessert in town (for a more soffisticated palatte), Choco berry (dark chocolate cookies and ganache, with fruit sorbet), or get the vegetarian lasagne and chickpea fries with house-made aioli.
In Zemun, try homemade uštipci or kačamak for breakfast, or basically anything for lunch (prebranac or beans, jagnjeće sarmice, pihtije). Stepin vajat is great for stuffed pljeskavica (burgers, but done properly), fries, chicken wrapped in bacon and all the rest.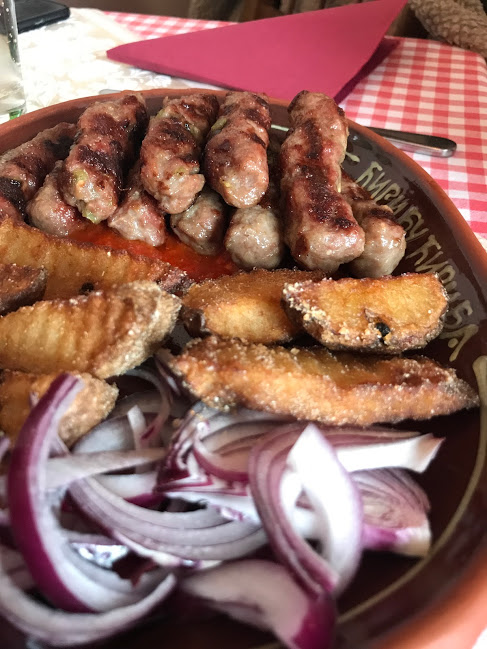 Typcal local food?

Try sarma or punjenja paprika, or prebranac for a cooked meal, but if you come to Serbia, then meat is the way to go. Barbecue ćevapi or pljeskavice, sausages, with horseradish or chopped onions, and of course the Serbian pièce de résistance, ROAST. Lambs and piglets, roasted whole, is the country's speciality. For the best places you have to leave the city, but just 50km South of the capital there is "MB" (a closed restaurant setting on a main road). If however, you want to experience culture and countryside at the same time, go to "Kod Tome i Nade" for a five decade long family tradition (don't get scared that there are 300 people eating there on average during the weekends). Don't miss homemade bread with cheese and kajmak, or Serbian pancakes with homemade plum or apricot jam.
Where to meet the locals?
In the middle of Knez Mihailova, in coffee shops and pubs. You'll know they are local because they take extra long with their coffee, but are really quick with rakija (most famous Serbia/Balkan alcoholic drink) or beer. People are generally friendly, so just strike up a conversation, don't be shy.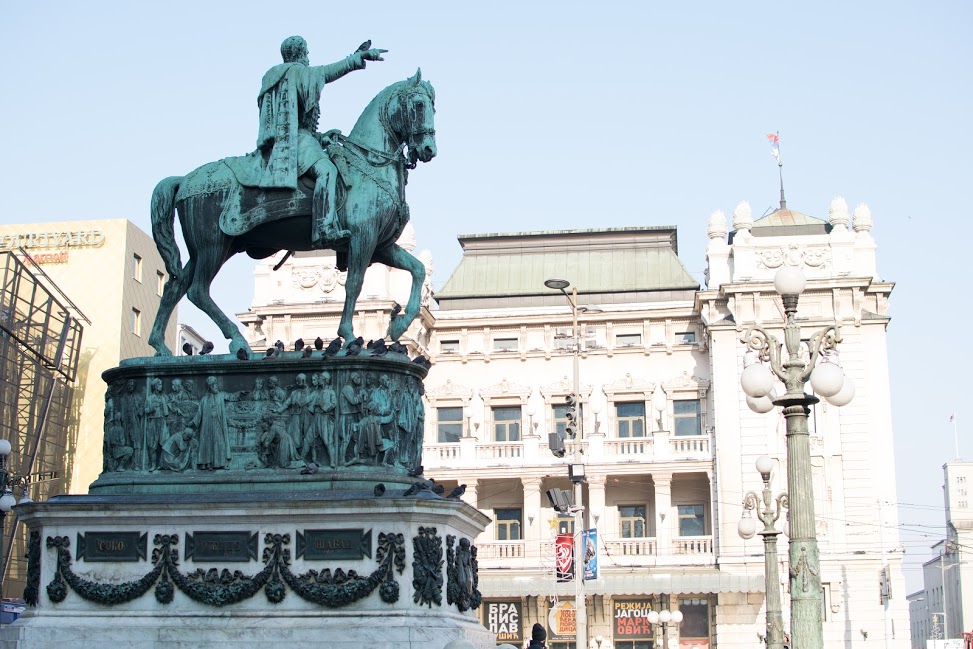 Monument to Knez Mihailo and the National Theater (photo courtesy of Ana Markov)
My favorite nightclub?
I never go out so I cannot recommend a place. Sorry.
Where to drink good coffee or tea?
For a more mainstream approach, but very well done, try one of the "Kafeterija" or "Coffee Dream" shops all around the city. If you are looking for something a bit different, then "Zaokret", "Svetozar", "Koffein", "Šoljica", etc.
My favorite shop?
I buy stuff mainly online, so once again... sorry.
My favorite event?
"Filmstreet" is my apsolute favourite event in Belgrade. It lasts from June to September every year, and shows dozens of amazing films (both foreign and Serbian with English subtitles). The interesting concept is that there is no movie theatre, but the films are played on street corners, in parks, famous locations around the city, once every few days. Follow their Facebook page, show up early, grab a good seat (bring a blanket or something), bring beer and food and get ready to have a perfect time with classics.
Taxi or other local transport?
Taxis are a no no because the drivers are awful. They try to rip off locals, let alone foreigners, so get a bus plus (public transport card) and jump on a tram, trolley or city bus (or just walk).
Keep away of....?
Strangers with candy in dark allies.
Things to do in Belgrade during the summer?
As I mentioned, "Filmstreet" is a must! Spend a day at Ada, have at least three coffees in the morning, followed by a heavy breakfast. Walk across the bridges or sit in the shade in Kalemegdan park. Try partying on a splav, or any other place really (it gets crazy everywhere). Complain about the heat to the locals, or find escape on the nearby mountain, Avala.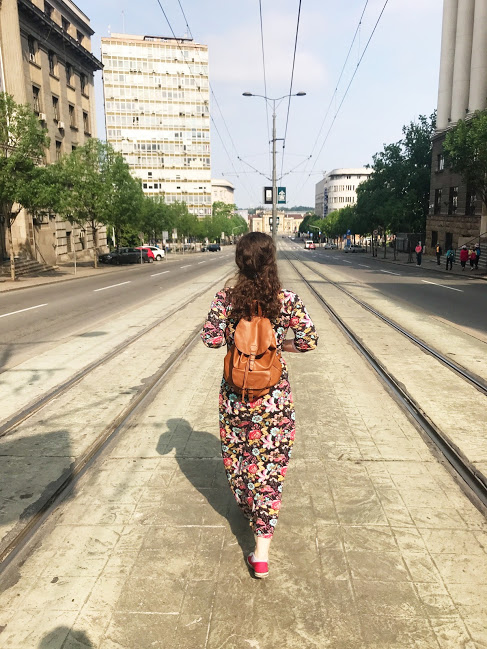 How to spend 48 hours in Belgrade?
I would start with a long morning walk (after finding some food - bakeries are really good). First, Temple of Saint Sava, down to Slavija, and then straight towards Terazije and the famous Moscow hotel (don't be scarred by Putin shirts being sold everywhere). You will pass the Yugoslav drama theatre and the Flower Square (maybe stop for the first of many coffees). Continue towards Knez Mihailova street (the main pedestrian zone) and don't forget to look up (that's where all the best architecture is). Pay attention to the Horse on your right, the Republic Square which holds some of the most important cultural buildings - the National Museum and National Theatre. At the end of Knez, please try to avoid looking at the monstrous shopping centre that shits on all of our city's beautiful history and cross the street into the Kalemegdan park. Walk around the fortress, chill, maybe have lunch at the Kalemegdan terrace restaurant, just above the Belgrade Zoo (the Zoo is really small, but you can still visit it). Hit my favourite museums, the National, the home of Jevrem Grujić and whatever is exhibited at the moment, and for the end of the day, the Nikola Tesla museum (more info in Museums section). Grab your sixth coffee of the day and find a place for dinner and drinks. The rest is up to you.
Day two is the day for Zemun! Venture across the river into this city within a city and start from the famous Gardoš hill. Have a coffee, or a breakfast beer at my favourite pub (based on name and view) "Fat Cat", with a great view over Danube. Take a tour of the small Gardoš tower, remnant of the Austro-Hungarian rule, and enjoy the view from the top. Walk down the cobbled streets and discover the old town of Zemun. The morning market offers locals products and products from all over the region, coffee shops are full and time passes slowly. Take a walk along the Danube and maybe stop for lunch (have fish, of course, paired with a good Serbian wine). Stroll aimlessly through the never-ending small streets, ask the locals why exactly are they from Zemun and not Belgrade (if you dare) and find your way to a good pub and a glass of craft beer. I would end my night there, but, in Belgrade there is always the next place.